37:30.70N 23:26.60E Neorion Bay, Poros

Ariel of Hamble
Jim and Valerie SHURVELL
Fri 28 Sep 2012 16:43
37:30.70N     23:26.60E   Neorion Bay, Poros.
Thursday, 27th September, 2012.
Time to move on as we had enjoyed our stay on the island of Angistri but Jim has been looking at the wind and it is due to blow on Friday so we decided Poros or one of the bays would be the best option.
Last night we had mussels at the restaurant nearest to the quay as he stores them in sacks in the water just by Ariel and as we knew they were very fresh we decided we needed to treat ourselves.  They were delicious and well worth the expense. 
We had walked into the town of Skala as Greece is on strike for the day and the little bus which arrives a few minutes before the hydrofoil was not running.  We had cold coffees at the taverna and the lady told us of a very pretty bay a few minutes away.  The extra walk was well worth it and we had a great swim in super clear and blue water.  Hence we walked back along the fairly new promenade with super lights every few yards and seats but as everyone seems to ride a scooter or moped I shouldn't think anyone uses it.  We had heard ducks quacking the night before and although there are road signs to say be careful of the ducks we could not find them anywhere.
We eased Ariel off the pontoon and were on our way with the genny up.  We needed to round the island of Metopi and not go between Angistri  and Metopi as according to the chart there is only 3 metres at the most and as the chart is old Jim would not risk the depth.  Once around Metopi and heading down past Aigina the wind suddenly died to nothing.  Jim soldiered on but the wind was nonexistent so away with genny and on with the motor.  As the mountains around all the islands are very high the wind seems to have a will of its own and none of the weather forecasts appear to get it right.  Jim had his fishing line out and he did get a hit as there were teeth marks on the tackle but no fish.
When passing Methana Peninsula I noticed how many walls of stone have been built and in some cases these walls appear to even be at the top of the high mountain.  It must have been very time consuming and involved heavy work.
We decided as the afternoon was very hot we would stop at Neorion Bay just before Poros for a swim.  It is a beautiful little bay with several tavernas on the beach and small apartments around the beach area.  It is hard to believe Britain is suffering floods, cold weather and rain whereas every day for us is beautiful sunshine.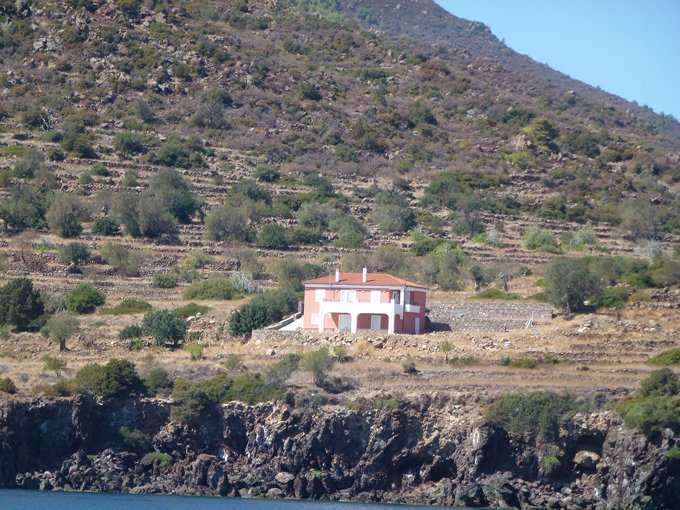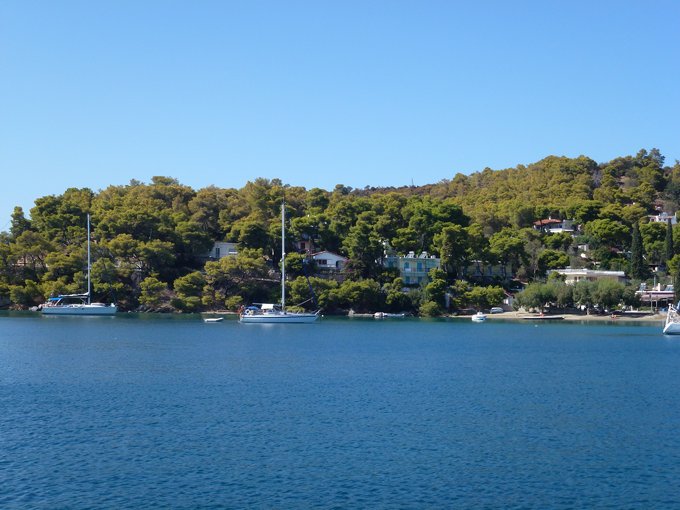 ---