46:43.631N 02:20.730W Ile d'Yeu Part 2

Ariel of Hamble
Jim and Valerie SHURVELL
Sat 13 Jun 2009 19:49
46:43.631N 02:20.730W  Ile d'Yeu     Part 2 
9th June, 2009.
We woke to beautiful clear skies and no howling wind.  What a difference so peaceful.
We walked along the harbour wall and found a lovely little café looking out over the water for coffee.  We stopped on the way back to Ariel at the fish shop for prawns for lunch.
The island is renowned for walking or biking along the coastal paths.  There are at least six big bike hire shops on this island which is 5 miles by 2 miles and everywhere you go a bike or two passes you by.
We decided we would walk across the island to the castle on the Atlantic coast.  We followed the map and we went down several country lanes and we were rewarded with the marvellous sight of the Le Vieux Chateau built on rocks with a wooden drawbridge to the castle gates.  Unfortunately, although it was Tuesday and should have been opened it was not so we could not go in.  From the castle you can look across the bay to a small beach.
This side of the island is very rugged with fabulous scenery.  The sea although calm was pounding up the rocks of the castle. I can not imagine the sight in a terrible storm.
We continued along the path to the Port de la Meule as the pilot book said you can enter this small port on very calm days.  We have looked now and there is no way Ariel would be going into this little harbour.  Mostly very small fishing boats were anchored there.
The cliffs are home to thousands of sea gulls and Jim without realising went to close to the cliff edge which started a few birds flying around squawking and then drive bombing him.  I wasn't much help as I was laughing such a lot.  Being a girl guide in case it rained I had an umbrella in my bag and when later the same problem arose Valerie could be seen looking like a Japanese lady wandering along the cliff behind Jim protecting ourselves. 
Unknown to me Jim was hoping the local bus would take us back to town but unfortunately, the one and only for the afternoon had gone at least half an hour before we arrived at Port de la Meule!!!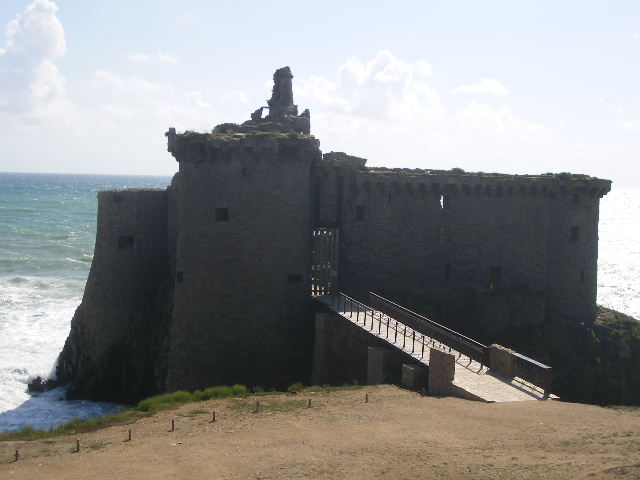 ---