Olbia to Pozzo – 4 October, 2010.

Ariel of Hamble
Jim and Valerie SHURVELL
Thu 14 Oct 2010 15:03
41:13.3N   09:17.1E   Olbia to Pozzo – 4 October, 2010.
I forgot to say last Thursday on the way back to Olbia with Geoff and Viv we came across a group of dolphins working in the bay as we came around Capo Figari.  It always gives us a great lift to see them even if they don't want to play with the boat and come and say hello.
The wind on Monday was quite breezy as we left the lighthouse behind and we came out into the Golfo di Olbia so we decided to take a look at Porta delle Saline the first bay to port.
We had lunch, the sun gave way to clouds so we decided to return to the safety of Olbia and the harbour wall for the night.
The next day started off very cloudy and we had had rain over night.  As the morning progressed the day improved and we made our way to Cala di Volpe for the night which is now a very quiet little bay.  We had had lunch at Golfo di Marinella and enjoyed the afternoon sun.  The hotels on the shore now are very quiet and hardly a person to be seen.
It was very still when we woke up and while sitting having breakfast Jim spotted more dolphins working in Cala di Volpe.  We quickly tidied up, up with the anchor and motored towards the dolphins where we discovered there were several working together in small groups.
They worked their way around the bay avoiding us so we motored out of the bay and sailed up to Porto Cervo for coffee, lunch, swim and an afternoon walk around the marina.
The supermarket closed on the 28th September, the lovely restaurant we went to with John and Viv in September was now closed with a notice wishing everyone a 'happy winter' and back in May 2011.  It was indeed very quiet with most of the shops were closed. We left Porto Cervo around 5 o'clock and sailed over to Porto Palma to pick up a buoy for the night.  On our way we spotted one lonely tuna which jumped out of the water a few times to give us a surprise.  There were lots of little fishing boats fishing all over the bay but not one of them anywhere near out sighting. The word must have gone around there were tuna around.
The dinghy school on Caprera Island had lots of customers out in the bay with approximately 50 dinghies racing around their marks competing against each other all having fun.
On Thursday we left Porta Palma in bright sunshine by sailing off the buoy and with the main only we crossed the Maddalena south channel into the Golfe di Arzachena 41:07.43N  09:26.59E
We passed two very nice looking bays and headed up to the village of Cannigione and anchored. 
Jim, Frank and Sue went ashore in search of supplies.  They found a lovely village of small shops and most importantly a supermarket.  There was beautiful scenery all around us with the mountains in the background.  A very safe refuge in the marina in a blow as it is safe from all winds.  There were several pontoons all owned by different families which to us seems quite strange.  After lunch we sailed up to the first little beach bay and anchored for a swim.  It is amazing we are still swimming most days in October from Ariel.
We sailed up to La Maddalena marina for the night in order to sample Italian cooking.  We found a very nice little restaurant and enjoyed a very good meal.  Frank and Sue have gone sightseeing as it is a pretty little town.
We sailed up to Pozzo after lunch enjoying the beautiful sunshine.  After dinner we moved from the anchor to a buoy as the wind was now quite strong.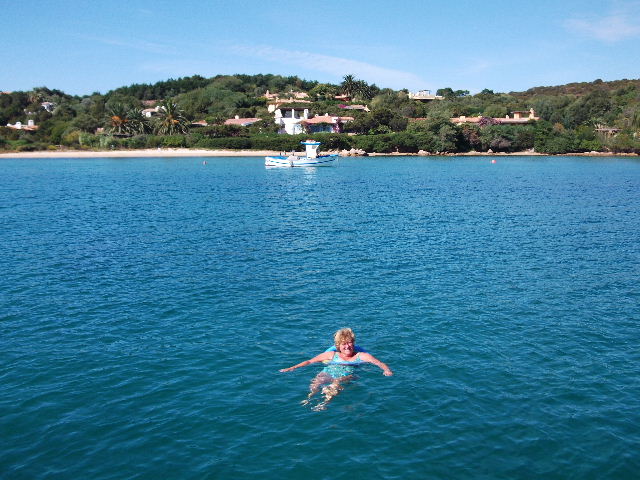 ---