38:27.65N 20:34.56E Fiskardho, Cephalonia

Ariel of Hamble
Jim and Valerie SHURVELL
Fri 2 Sep 2011 18:29
Sunday, 28th August, 2011.
We left Sivota Bay and motored sailed down the coast line of Levkas and then left the island and headed out past the island of Arkoudhi and headed for Fiskardho on Cephalonia which looks across to Ithaca.
This is our first visit to Cephalonia and we were greeted with a lovely little harbour with taverna's along the front. Fiskardho was the only town on Cephalonia which was not destroyed during the 1953 earthquake which devastated much of the Ionian as it is said to sit on a bed of soft clay.  The village is named after Robert Guiscard, a Norman adventurer who ruled these parts and died here of fever in 1085.  The ruined Roman towers in the bay are believed to be part of a church built in his memory.
In ancient times Cephalonia formed part of the kingdom of Odysseus and archaeologists have found evidence of the ancient sites mentioned in Homer.
Cephalonia has always had closed links with Italy.  During the war 9,000 Italian soldiers invaded the island but failed to take control.  In 1943 Hitler sent German troops to the island but the Italian force from the Alpine Division refused to co-operate and fought them for seven days.  Only, 3,000 survived and they were lined up and shot on Hitler's personal orders.   Only 34 survived and the story says one survivor swam over to Ithaca and was sheltered by local Greeks until he escaped.  Until recently he was captain of one of the ferries from Brindisi and every time he passed Ithaca he gave a long toot on the ship's horn to salute his Greek friends.
Captain Corelli's Mandolin of which we have a copy on board was filmed in Cephalonia.  The film material was censored by the Governor of the island and therefore the film was said to have been neutered as a long amount of material was not used.
After pork chops on board Ariel we took a walk along the quay and stopped for cocktails at an upstairs bar taking in the view of the evening lights across the bay.
We will be back here at some point as it has many walks and caves to explore.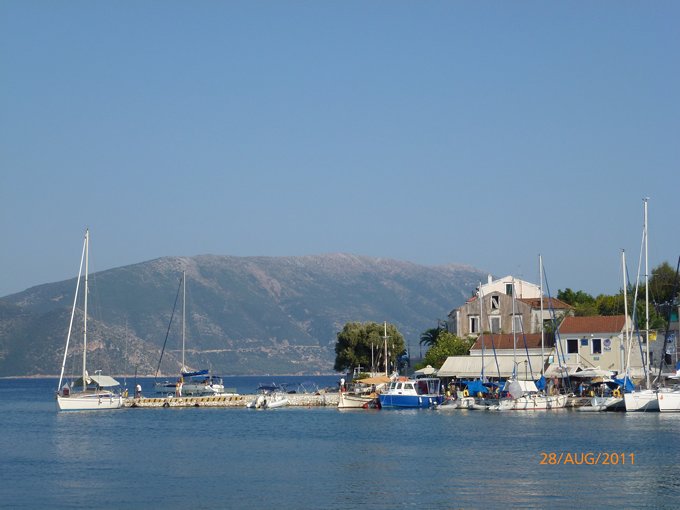 ---