41:20.31N 09:15.08E Ile Lavezzi

Ariel of Hamble
Jim and Valerie SHURVELL
Thu 12 Aug 2010 19:08
41:20.31N   09:15.08E   Ile Lavezzi
The wind dropped and we joined many others and left Bonifacio.  We decided to look at the islands between Corsica and Sardinia and made for Ile Lavezzi which was a journey of about 5 miles.  Jim steered Ariel into a very nice anchorage called Cala La Zarina which gave us cover from the wind on three sides hiding behind the rocks.
We swam in light blue clear water and many others were doing like wise.  The entertainment of others trying to anchor in a small bay was quite comical and some were not very successful and after a few tries decided to go elsewhere.  As boats left new boats were waiting to take their place.  It is very popular with the French and the Italians alike, with big and small boats.  The day tripper boats are non stop across the bays bringing people to the lovely beaches from Corsica and Sardinia.
Many of the rocks on the island are granite and the others are very rounded perhaps from the ice age.  Many look like they could have been sculptured.
On the island is a memorial to the ship La Semillante at the entrance to Cala Lazarina which Jim and I climbed to at the sunset.  Also on the island are two cemeteries which are filled with 773 French troops who were abroad the La Semillante on their way to the Crimean War.  The ship foundered in a gale off Lavezzi at midday on 15th February, 1855 and everyone on board was drowned.  For several days the bodies were washed ashore on Lavezzi and only one officer could be identified as the other 772 bodies were in such a bad condition.  The crosses in the cemetery on the east side only give the names of the officers on board.
The only man living on the island at the time of the ship wreck was a leper and with the horror of the ship wreck he went completely mad.  No one knows why no one survived and why the bodies were in such an unrecognisable condition.  Perhaps the ship blew up?
At night we heard a sea gull flying around and making calling sounds like a child crying and it went on until sunrise.  The story goes that this bird's crying started when the ship first went down. All we can say on the subject is that it is a very eerie noise and it goes on all night long.
The island is now a nature reserve and wardens control the areas.  A number of areas are fenced off in order to study the vegetation which will grow during the summer months undisturbed by the tourists.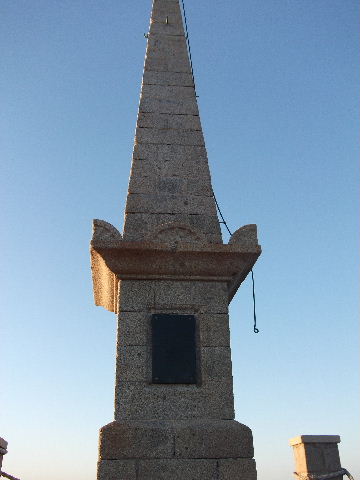 ---