37:30.10N 23:27.22E Poros

Ariel of Hamble
Jim and Valerie SHURVELL
Tue 4 Jun 2013 19:18
Tuesday, 4th June, 2013.
We were up early and after breakfast pulled up the anchor and said goodbye to our Dutch friends who seem to move every time we do and we left Porto Kheli in bright sunshine.
The wind was favourable and we had the main and front sail and within sight of Spetsi we were sailing.  The peace of not having the engine running was wonderful.  A few yachts were on the water going in different directions but Ariel was enjoying herself and heading down towards Idhra with the wind in her sails. The morning was perfect and the breeze just constant to keep us moving in the right direction.
We shamed one Atheian Yachts into putting up their sails.  A new beautiful 50.9 Jeannaeu Odyssey was motoring along with the guys talking and the girls sunbathing when Ariel came up and passed them by.  After a couple of minutes their sails went up but Ariel galloped away and left them trailing behind never to be seen again so we thought but they turned up in Poros over an hour and a half later.
As we came up to Idhra the Star Clipper sailing cruiser came from Athens direction and anchored off of Ihdra ready to take her passengers ashore via their lifeboats.
Gusts of wind came and went and we sailed on up to the corner to turn towards Poros passing between the small island of Skiil and the island of Spathi.  The wind really took hold and we were almost flying with just the main.  The sea was surfing with white water everywhere.  We covered the distance in record time and took down the main just before the entrance to Poros which was a good job as the Flying Dolphin came around the corner to meet us obviously just left the quay at Poros.  Jim slowed to almost a stop and it passed us by.  I looked back to see another Flying Dolphin coming towards us coming into Poros.  Jim was already nearly at a standstill but this one wanted to overtake up the inside! Beep, beep it's horn went.
There was no way we were going to get on the quay with the wind blowing straight down the valley so we looked further around the harbour wall to where the ferries moor and found a very nice pontoon with just the right amount of space for Ariel.  With the fenders tied and the lines ready we slowly moved onto the pontoon.
We covered just over 28 miles today and most of it we managed to sail in beautiful sunshine.  Poros is a lovely small town and very picturesque with some beautiful little restaurants and small shops to explore with great walks.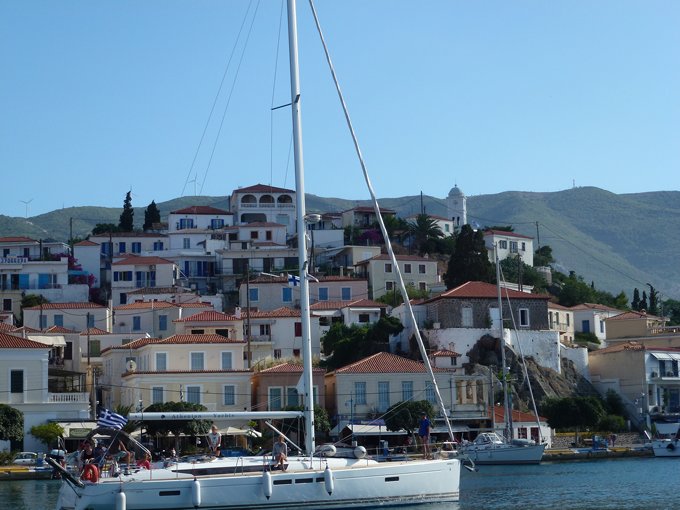 ---