39:58.240N 00:01.022E Puerto de la Castello de la Plana

Ariel of Hamble
Jim and Valerie SHURVELL
Fri 23 Oct 2009 18:50
39:58.240N  00:01.022E  Puerto de la Castello de la Plana
Well which forecast do you believe. The forecast yesterday never lived up to their force 7 forecasted wind, and what a lovely sunny day it was in Farnals.  A bit breezy in the afternoon but no force 7.  Dinner at Farnals was stuffed squid made by the on board chef.
Today one forecast at the marina office notice board said 3-4 West becoming 4-5 North West.  Another forecast Wind Guru showed 24 knots of West to North West Wind and the Spanish Met. Office continued their West to North West 7 forecast.
It started a motor sail with next to no wind at 11am.  After about 9 miles the wind appeared.  We started with one reef in the main and half the genoa headsail.  We then changed to single sail reaching with just the mainsail.  Then 2 reefs in the main and we surfed at up to 11 knots.  The wind went progressively crazier and the gusts were frequently well over 40 knots.  You could see the gusts coming over the water with down drafts sending the surface water flying like mist.  The heaviest gust was 53 knots of true wind.  3 reefs in the main for the first time on Ariel brought better control to the helm and we roared into Castello harbour at over 7 knots at 3pm.  At least it was bright sunshine all the way even if I was getting water down my neck.  The crew was very brave and we were both very pleased to eventually be safely tied up in the marina.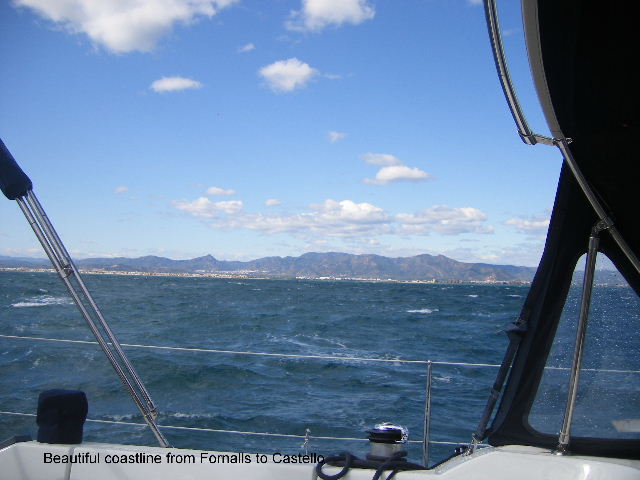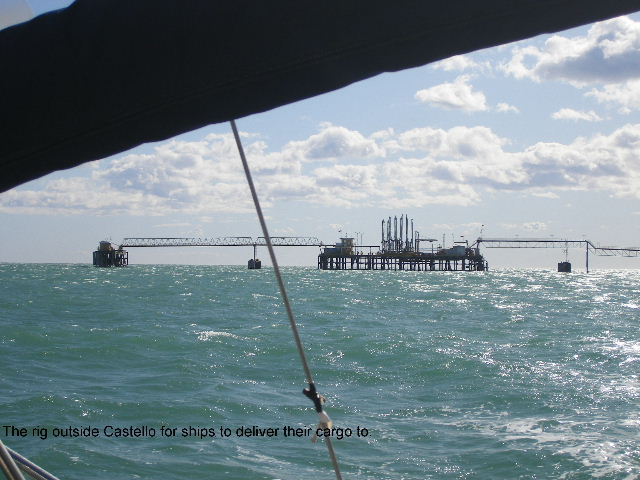 ---