GRANADA

Ariel of Hamble
Jim and Valerie SHURVELL
Mon 31 Aug 2009 20:54
GRANADA
Tuesday, 25th August, 2009.
As this was our last day together before Jackie and Mark started their journey back to Australia we hired a car and went to Granada.  It was a two hour drive along the mountain motorway. Our little hire car although not the fastest car on the road did manage to get up the hills a little slower than everyone else.
We had the day before tried to get tickets for Alhambra at the internet café as we are still suffering with connection problems.  No tickets available but we felt sure there must be some available to tourists who just turn up on the day.  We were luckily enough to get four after the normal queuing process. We were indeed not disappointed.
After buying a snack lunch we made our way into the gardens called "Generalife" which are north of the Alhambra.  This was the country estate of the Nasrid kings where they could escape the intrigues of the palace and enjoy the tranquillity high above the city, they thought a little closer to heaven.  The gardens, begun in the 13th century and have been modified over the years.  At first there were orchards and pastures for animals but now consist of beautiful rose gardens, an assortment of flowers, formal gardens and water fountains. 
We went into the Palacio Carlos V which contains a wonderful art collection before we made our way to Alhambra for our timed visit.  We were not disappointed and the castle was as beautiful as the palace in Seville with tiled walls, beautiful carvings and large rooms and gardens.
From the castle walls we could look down to the Cathedral in the city and see for miles around.
We travelled back on the motorway to Motril and on to Nerja for dinner.  We had to have one more sample of Spanish fish for Jackie and Mark.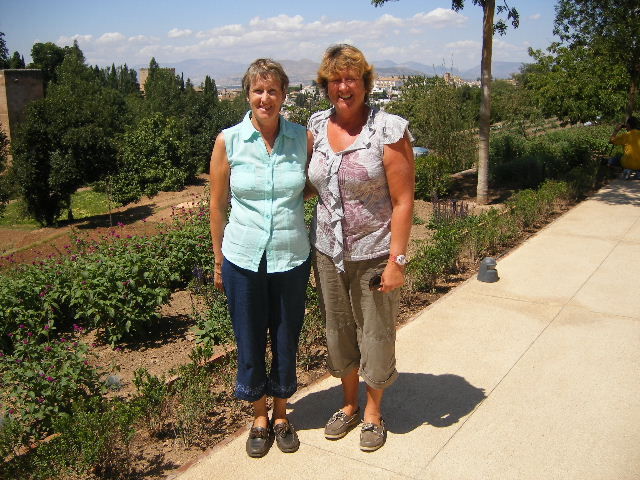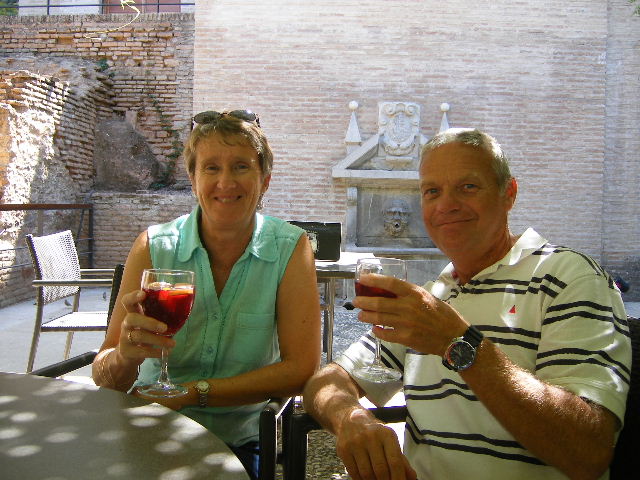 ---