37:15.60N 23:09.93E Spetses Island

Ariel of Hamble
Jim and Valerie SHURVELL
Tue 18 Sep 2012 14:20
37:15.60N     23:09.93E    Spetses Island
Wednesday, 12th September, 2012.
We left Porto Kheli this morning in beautiful sunshine for the island of Spetses.  We were advised it was difficult to find a mooring so we decided if that was the case we would sail onto the island of Idhra.  We were very lucky and we were waved into the one and only space in the inner harbour.  Our neighbour is a 100 feet super yacht registered in London and the staff were very helpful in moving their fenders down to accommodate us.
Spetese town stretches for one mile along the coast.  It centres around Ntapia quay and has tavernas and cafes everywhere.  Beautiful houses line the shore as during the 1920's and 30's it was a fashionable resort for British expats and wealthy Greeks.  Then in the 60's the tourist boom started to take off and it became very popular.  There was a ban on vehicles on the island but we saw several cars which were private which must have come in on the daily ferry.  There are taxi's, mopeds and most all there are the horse drawn carriages.  We counted at least 10 carriages waiting for their fares.  To call for your carriage there were telephone boxes specially for calling your carriage.
Spetese was occupied by the Venetians in 1220, Turks in 1460 and Albanians during the 16th century.  The island developed as a naval power and supplied a fleet for the Greek revolution effort.  The most famous Spetsiot was Laskarina Bourboulina.  She was an admiral who menaced the Turks from her flagship "Agamemmon" and reputedly seduced men at gunpoint.   Her formal home is now privately run as the Bouboulina Museum.  Her coffin is on display with figureheads from her ship in the museum.
Just where we were moored were the traditional wooden boat builders with several boats all at different stages.  The walk to the lighthouse was interesting as there were several animal scriptures and a mermaid!  The lighthouse light was turned off during the war and turned on at the end of the Second World War.  In 1976 the running of the light was changed from oil to electricity.
We walked to the 17th century church of Agios Nikolaos which is situated above the harbour.  There in the courtyard around the church are fine pebble mosaics and a belfry made by craftsmen from the island of Tinos in the Aegean Sea.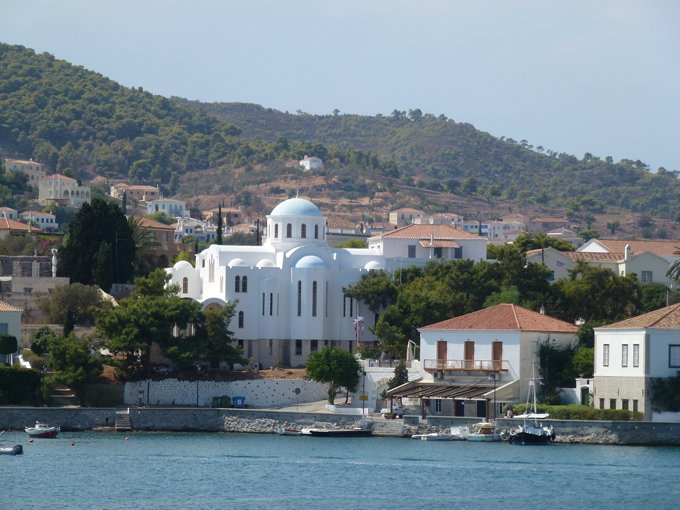 ---