44:03.05N 09:50.03E Portovenere

Ariel of Hamble
Jim and Valerie SHURVELL
Thu 29 Jul 2010 19:37
44:03.05N   09:50.03E   Portovenere
On Monday we took the bus to Portovenere as we had been longingly looking at the town from a far the day before.  Portovenere is named after the goddess Venus.
The village and harbour are picturesque with tall houses all painted in pastel colours.  There are narrow streets and the village is thought to be the most romantic on the Ligurian coast. In one of the little shops there were photographs of Portovenere during a snow storm in December 2009.  Apparently, it snows every 25 years in Portovenere and they have this on record for several centuries.
In the upper part of the village is the 12th century church of San Lorenzo.  A sculpture over the doorway depicts the martyrdom of the saint who was roasted alive on a grill!  On the stone promontory which reaches out into the sea is a small black and white 13th century church called San Pietro. From the church or the 16th century castle on top of the cliffs there are views to the Cinque Terre and the small island of Palmaria which is only 435 yards offshore.
Lord Byron was a regular visitor to Portovenere and there is a plaque which records his swim from Portovenere to Lerici.  Its wording records the poet as a daring swimmer who defied the waves of the sea from Portovenere to Lerici which is approximately 5 miles across the bay of La Spezia.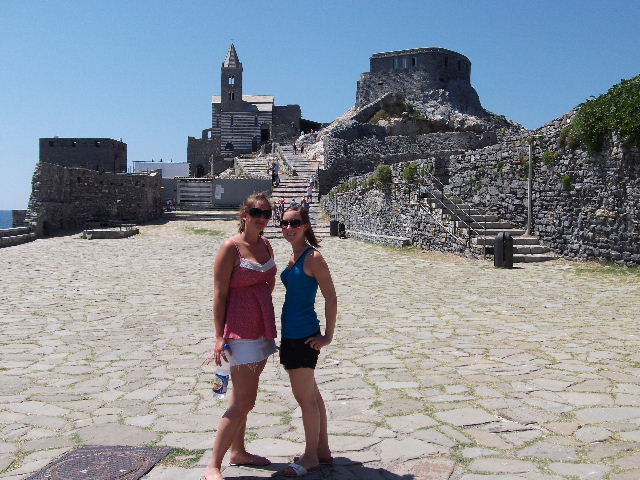 ---