37:47.11N 20:54.07E Zakinthos town

Ariel of Hamble
Jim and Valerie SHURVELL
Wed 8 Aug 2012 17:53
Zakinthos town.  Wednesday 8th August, 2012.
After another wonderful night of peace and quiet we left Nikolaos and motored north for about one mile until we reached the Blue Caves on the tip of the island.  The caves have been formed by the relentless action of the sea along the coastline.  The principal cave is called the Blue Grotto and it is easy to find as it directly under the lighthouse of Cape Skinari.  It was discovered in 1897 and has become well known for its stunningly blue and clear water.  As we motored slowly along we were joined by many power boats with paying customers and several large ferries who visit Wreck Bay also.  Wreck Bay famously appears on DK books, table mats etc.
We enjoyed the scenery down the coast passing the resorts of Tsilivi and Alykes with their nice looking beaches.  Several large 2, 3 and 4 deck super yachts are all anchored around the area.  We came across a fishing boat pulling in its nets and we were pleased to see they had a good size small catch.
Motoring into Kakinthos it was very like the coast line of Gibraltar.  We are looking forward to seeing the town and exploring a little more of the countryside.  Jim has paid for two nights so we may take a bus ride tomorrow.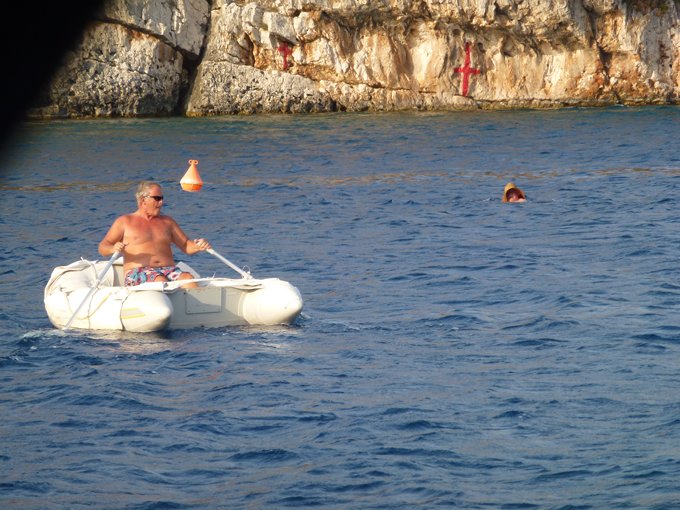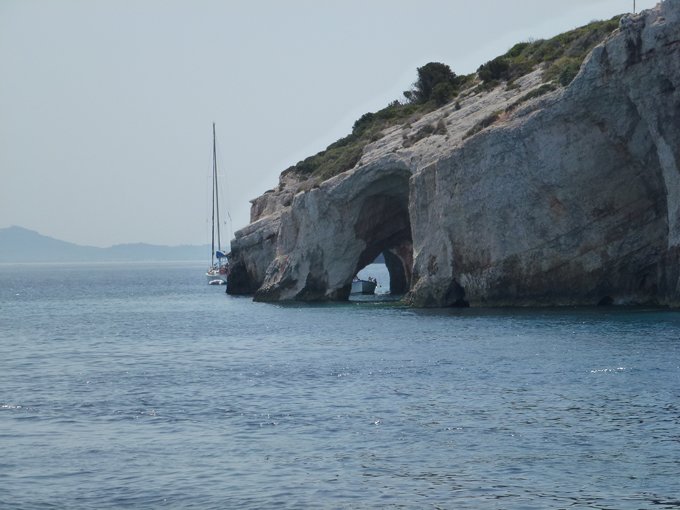 ---