Ormos Vidhi, Poros

Ariel of Hamble
Jim and Valerie SHURVELL
Sun 30 Sep 2018 16:51
Sunday 23rd September,  2018.
When we got up in the morning we could see all the anchored boats around the bay close to the shore and the empty mooring buoys littered all over the area.
We had a good sail down to the Temple of Posidon with a lovely breeze with us. There were lots of yachts and motor boats anchored in the little bay under the Temple. We passed quite a few very nice houses and flats all along the coast obviously not far from Athens for weekenders.
Once we were away from the land the wind did a 180 degrees and it was now on the nose so we had to motor across to Poros. We tried several times to use the main but all it did was slow us.  The propeller seems sluggish so Jim is going to have to dive on it once we are in clear water.  Jim saw one baby sawfish as we motored along.
We arrived just as the sun was going down in the north bay in front of us where the scenery is beautiful and this is a quiet heaven!!!!!  The moon soon appeared behind us so we had dinner under moon light.
Next morning dived on the propeller and found what he believed was slowing us down.  Fishers netting!!!!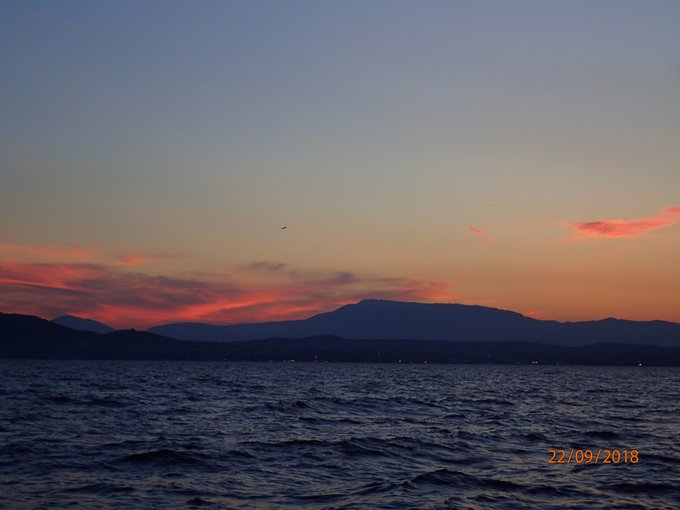 ---