39:45.97N 19:56.98E Ayios Stefanou

Ariel of Hamble
Jim and Valerie SHURVELL
Thu 28 Jul 2011 06:25
Tuesday, 26th July, 2011.
I was up a few times in the night as the swell was not good and I was panicking about where we were swinging to .  Unusually, Jim was up at 5.30 a.m. and by 7 a.m. we were heading out of the bay and watching the clouds forming over the mountains on the mainland.  The barometer had dropped over night to 998 from 1006 as there were reports of lows over Croatia.
As we headed up towards Corfu across the water between the two islands more and more black clouds and wind appeared.  We managed to sail with the wind from the south but as we were in the lee of Corfu we had to start motoring.  We had planned to go to Mourtos on the mainland but as the rain was over the town we decided to head towards the east coast of Corfu and into one of the bays which appeared to be missing the rain and be in sunshine.
On the way Jim spotted a dolphin (39:23.85N   20:06.93E) jumping and splashing in the wake of one of the super yachts which was motoring up towards Corfu. After a few seconds he came our way and gave us only one swim pass and he was gone.
Ayios Stefanos is a small inlet in the North Corfu Channel.  There is a military post above the anchorage but there is no objection to anchoring here.  Taverna's and small shops are around the shore.  As it was a good bay for cover from the wind numerous boats descended on the bay until it became very crowded.  Once the wind changed boats were swinging all over the place.  Time to leave and back to Kalami bay as the wind had changed and was dying for peace and quiet.  A still peaceful night was had by all.    
As it was Geoff and Viv's last day with us we went to The White House for lunch.  It was the home of Gerald Durrell in the 30's and where he wrote "My family and other animals."  We had a marvellous meal with beautiful scenery.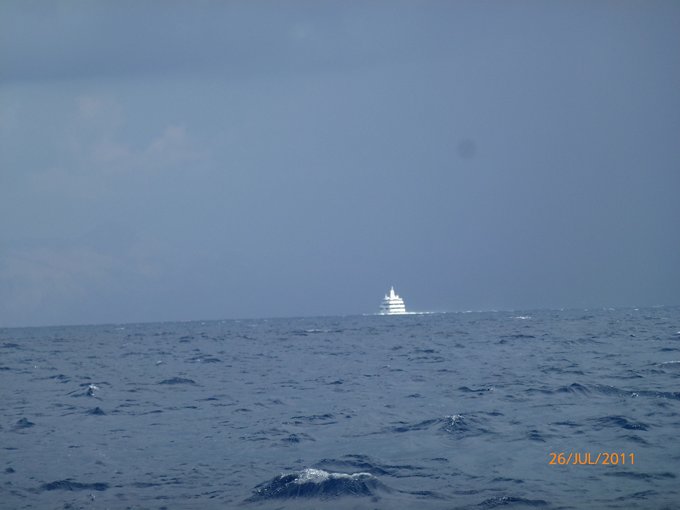 ---