40:44.00N 13:57.70E Isola d'ischia, Bay of Naples

Ariel of Hamble
Jim and Valerie SHURVELL
Tue 7 Jun 2011 16:02
6th June, 2011.
Sunday turned into a very wet day and the wind blew into the bay at Cala di Feola, Ponza.  We stayed safely on board until it calmed down in the evening when we decided we would investigate the town/village around the bay. On our way Jim took us in the dinghy into the sea caves around the shore which are natural rock tunnels and a natural spring that was frequented by the Romans.  Higher up the fishermen have made use of the holes in the rock to use as storage sheds.
The whole area is covered in yellow broom.  Hidden between the thicket are the paths up the steep cliff paths to the town above.  We climbed probably 100 steps and were very surprised to find several hotels, a supermarket and lots of small shops in the village. Seriously, lacking in customers at this time of year. The view across the bay was beautiful.  On the hour every hour the very pleasing church bells rang out.
Monday morning we were up early to make the crossing from Ponza to Ischia.  As we headed around the Point della Guardia and the big lighthouse we wondered at the rock formation along this headland. The cliffs have been eroded into fantastic and wonderful shapes and eroded by the wind and sea to further the effect.    The rock formation is one of the best we have seen on our travels.
We motored into Ponza town to check out what we had read about it.  The harbour and small town are picturesque with pastel rose, blue, yellow and white houses under the green slopes.  There were many fishing boats lined up around the quay and several ferries moving in and out of the small harbour with probably 5 yachts anchored and tucked in one corner.  The cemetery on the high cliff of La Rotonda della Madonna overlooks the town.  We could not stay as we have new visitors on Wednesday so we started our sail towards the Isola di Ischia. 
It was a long day as it was only suppose to be 42 miles but the wind blew across the sea and formed a 2 metre chop and Ariel was slapping into the waves.  We tried reefing and all the little tricks Jim does to offer the boat a better sail. We had no alternative but to head towards the mainland and to make up some ground if the wind changed direction.  By 4 o'clock there was still no let up and with poor visibility we had no option but to start the engine and motor.  We reached Ischia just as the light was fading.  We anchored just below the huge Castello Aragonese built on a rock and before we went to bed our first firework display of the season could be seen from the mainland.
We had covered only 62.82 miles but it was a long day and only two dolphins to cheer us on our way.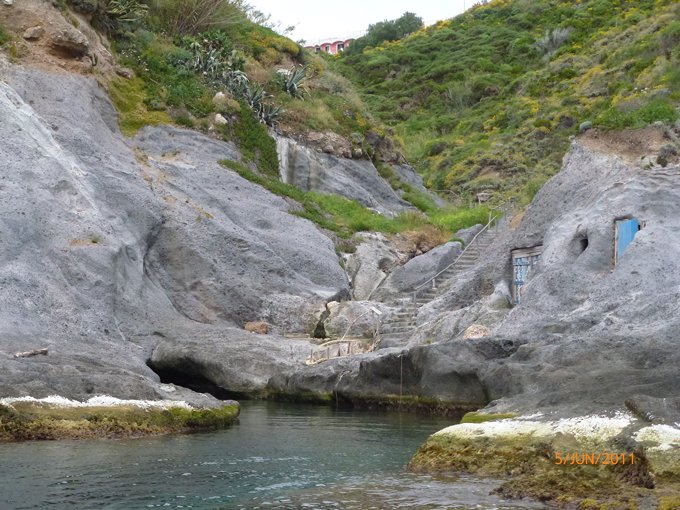 ---