36:47.11N 23:05.11E Ieraka

Ariel of Hamble
Jim and Valerie SHURVELL
Tue 11 Sep 2012 15:27
36:47.11N      23:05.11E    Ieraka
Wednesday, 5th September, 2012.
We have had another few days longer in Monemvasia than we intended as it is a very sweet little town with the mountain scenery, nice little shops and turtles in the harbour.  I managed today to get another couple of photographs just as the fishing boats came in and began throwing the odd fish in the water.   A big turtle came along and was quite happily swimming under the fishing boats when one of his friends came and tried to join in the feeding routine to which the large turtle did a bit of barging and pushing and off went the second turtle.
The wind has settled for the last couple of days and we have not experienced the 30 knots of wind from the NE each morning now so we have decided it was a good time to move on.  We followed the coast along heading north for 8.7 miles after rounding the headland of Monemvasia and the old town. We decided we would make for a small hamlet called Ieraka.  As the narrow entrance is between high cliffs it is difficult to locate until you are fairly close in.  Thank goodness for the Raymarine chart plotter.
The small hamlet is surrounded by the Parnon Mountains and it is hardly touched by outside influences.  There are a couple of taverna's and half a dozen very pretty little cottages all painted mostly white with blue windows and gates.  We are stern-to on the quay which passes the tavernas and at the end of the long pavement there is a shallow lagoon surrounded by mountains which you can walk around or use the dinghy.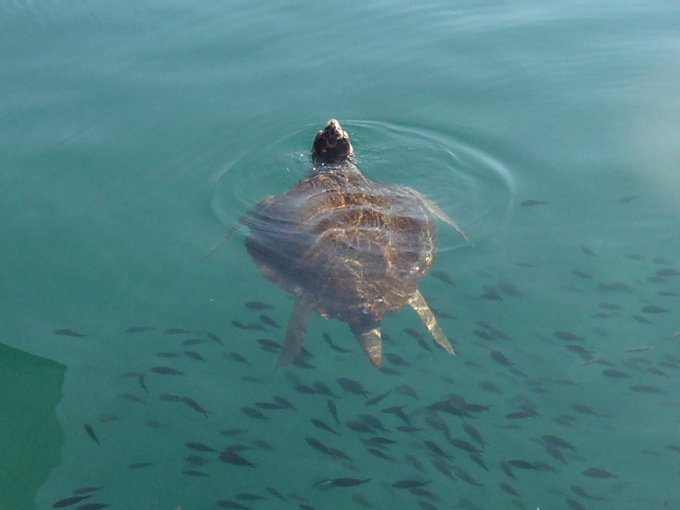 ---