36:36.83N 24:56.92E Karavostasi, Folegandros Island.

Ariel of Hamble
Jim and Valerie SHURVELL
Sat 13 Jun 2015 18:25
 Karavostasi, Folegandros Island.
8th June, 2015.
After 6 days stuck in Milos with the wind at gale force we were able to leave the harbour and make for the island of Folegandros on our way to Santorini.  While we were waiting for the wind to abate we hired a car for two days and Frank very kindly drove us over the island up and down nearly every made up road to all the little bays available to us.  A beautiful island for holiday makers with the castle to visit at the top of the chora, mine museum which Frank enjoyed and lots of restaurants with beautiful sea views.
We motored out of the harbour and up the channel and had to motor around the top of the island. The sea was still very confused but gradually as we left the island behind the wind was very favourable for sailing all the way to Folegandros with some excellent speeds.  The distance we covered was 36.62 miles.
Karavostasi came into view and what a lovely little bay with a small quay which the ferry uses and leaves space for about 4 boats  to hop up and down.  Therefore we anchored and used the dinghy to get ashore for dinner.  Three little bars on the beach and a couple of restaurants.  Beer was expensive and so it was off to the little ladies fish taverna for dinner.  Jim and I chose the mixed fish for two which turned out to be four small farmed bass and nothing else.  Very tasty, but not a lot of to it unfortunately.  The lady cook told us she loved Gordon Ramsey's TV shows and also liked Jamie Oliver.
We had a quiet night on anchor.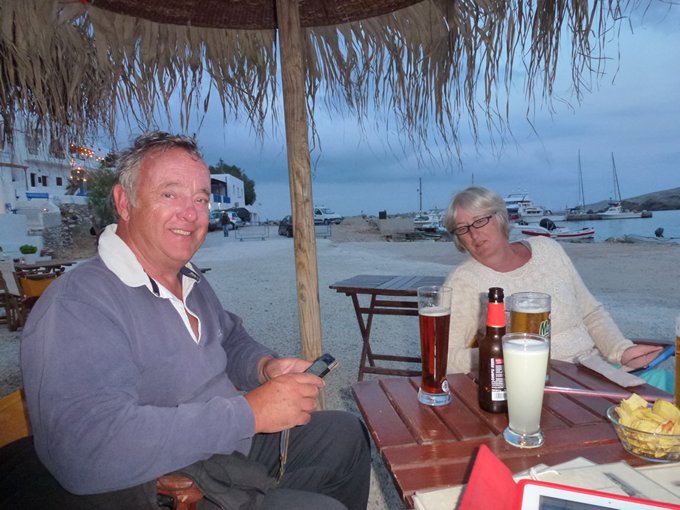 ---