36:33.05N 27:50.79E Panormitis, Symi island.

Ariel of Hamble
Jim and Valerie SHURVELL
Sun 29 Sep 2013 18:26
Thursday, 26th September, 2013.

We had a very peaceful night at anchor and wake to another glorious sunny day but no wind so we had to motor 19.25 miles all the way to the enclosed bay of Panormitis on the south west coast. We saw 6 to 8 dolphins on our way but they were working and wouldn't come to see us.  A white windmill on the east side of the entrance was our focal point and as we turned into the bay we could see the large white buildings of the monastery in front of us.  We had plenty of space in the bay to anchor and with the clear water a great place to swim.
The monastery's full title is Moni Taxiarchi Michail Panormiti and it was built as a place of pilgrimage for Greek sailors worldwide.  The buildings are 18th to 20th century and even today one of the six buildings is being reroofed.  The rooms are let out to sailors and their families and everything is painted and restored very nicely. There is a bell tower in the centre which is a 1905 copy of the Agia Foteini in Izmir.  The monastery is famous for its icon of the Archangel Michael, Symi's patron saint and guardian of seafarers.  The single nave chapel was built in 1783 on the remains of an early Byzantine chapel and also dedicated to the saint.  According to tradition if you ask a favour of St. Michael you must vow to give something in return therefore on the rail below the icon is a row of bracelets, war medals and little ornaments. The paintings on the ceilings had unfortunately suffered with damp but the wall paintings were still very much as wonderful as they would have been a hundred years ago.  Unfortunately, the museum was closed at the time we visited so we had to miss some of the items they have on display like prayers in bottles which have floated into the bay containing money for the monastery from faithful sailors.
Just near the monastery is a memorial to the former abbot, two monks and two teachers executed by the Germans in 1944 for running a spy radio for British commandos.  Although there is only one taverna a pavement has been built all around the bay and we were able to walk to the windmill once through the gate where the goats were who gave us the evil eye.  Thank goodness they didn't come to close as we had a new loaf and two cakes from the bakery in our hands!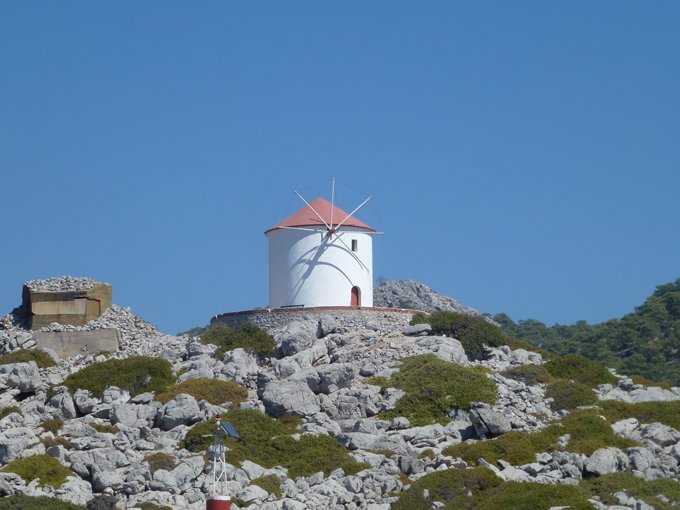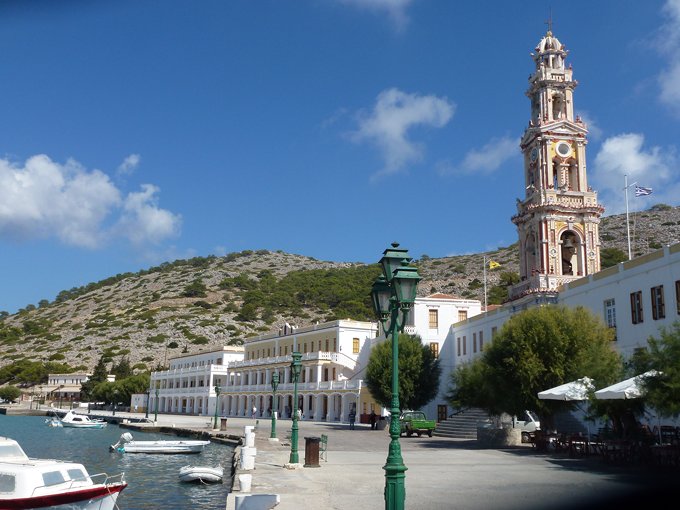 ---