36:08.968N 05:21.229W GIBRALTAR

Ariel of Hamble
Jim and Valerie SHURVELL
Mon 31 Aug 2009 15:56
36:08.968N   05:21.229W    GIBRALTAR
Monday 17th August, 2009.
We left Barbate on Monday as the wind was a little more favourable and enjoyed the sailing to Gibraltar.  The dolphins did not disappoint us and we were lucky enough to see four different families on the journey.  They were all busy feeding and didn't want to play with us.  There were also large groups of flying fish sunning themselves and only moving as soon as Ariel approached.  Jim radioed ahead to the marina and booked a place in the Marina Bay.
It is just by the airport but only about 6 planes a day arrive or leave so it was not noisy at night.  We were very surprised at the number of boats who have made Gibraltar their home and have not moved in years.  Most of them have large sky aerials secured to the concrete harbour wall.  Some even advertised cabins for rent.  It was quite a community of people who all knew each other and many went off to work during the day.  One chap was selling bikes from his boat!
Jim, Melissa, Jonathan and I had been to Gibraltar over twenty four years ago and so we were looking forward to the return trip this time in Ariel and not by car.  We were instantly amazed at how many apartments had been built all around the harbour area.  On looking at the apartments most people must have a sea view and of course being close to the airport and the marvellous selection of shops with English speaking assistants a good choice for most.  This also gave the marina's a good supply of shops and restaurants to choose from. 
Tuesday 18th August, 2009.
Of course, we had to visit the Barbary apes at the top of the mountain.  The Rock is 1475 feet high and we were lucky enough not to have mist.  We waited over 2 hours for our cable car ride as there are only two lifts and each one takes 10 minutes. In our defence the queue did not appear long.  We would not have waited but unless you walk up in the heat the only alternate is to take a taxi as they are the only ones licensed to view the apes.  Jackie and Mark did leave the queue for a quick visit to the Trafalgar Cemetery where most of the injured sailors from the Battle of Trafalgar are buried to take photographs for their friend Keith at home.  He is tracing his family history and one of his relatives was at the Battle of Trafalgar and served as a cannon boy on one of the ships. 
When we did get to the top where a new restaurant has been built with three platforms we were met with our first group of apes.  Jackie did not like them at all as they are busy all the time looking for any food they can steal.  One little boy left the restaurant with a packet of sweets which on leaving the last step of the restaurant they were snatched straight out of his hand.  Any noise of paper or sight of any food and they are there straight away and they are quick.  As they are a little frightening the monkeys don't take no for an answer.  The shop keepers to be fair tell everyone not to take food outside. 
The monkeys are well fed and there are piles of fruit for them to eat left in their areas which appears they leave untouched.  Perhaps the fun is checking out the tourists first and then eating their own food.
We enjoyed the beautiful views over the sea to North Africa where you could see the mountains in the distance and to Algerciras in the west where we had thought of berthing but there were no spaces.  We listened to the audio programme which told us about the siege of Gibraltar and how Linea had developed over the years in Spain.
We ate our lunch at the top of the mountain in the restaurant and had a well earned bottle of water before walking on to the next ape area for photographs and St. Michael's caves.The caves are wonderful with beautiful colours all around from the rocks and well worth a visit. During World War II the caves were fitted out as a bomb proof military hospital which was luckily never used.  This beautiful natural grotto is now a unique natural auditorium and classical concerts are performed there.
We walked on down Queen's Road to the Great Siege Tunnels and as you can see from the photographs it was a marvellous exhibition with models which looked real.  The tunnels extend for 31 miles all dug with very little tools.  After being in these tunnels you can imagine how hard it must have been digging their way through the hard mountain.
We ended our trip at the Moorish Castle and visited the restored castle at the top.  According to the literature the lower part of the castle which was built in the 8th century is still used to house Gibraltar's prison population.  Marvellous views of the town can be seen from the tower.
To get back to town Jim managed to find steps which went on for ever and ever.  Once we were down at shop level and a café in sight we came across three very naughty apes who had ventured down into town and one of them had pinched a packet of crisps from a local shop. They seemed very at home checking out the wheelie bins and not at all worried by humans.  Jim, Jackie and Mark thought it very funny to tease me that they may find their way to Ariel while we were asleep!!!!
Wednesday 19th August, 2009.
Jackie and I went shopping along Main Street diving in and out of all the jewellery shops.
We enjoyed visiting Gibraltar Crystal where they make beautiful glasses of all description and vases.  There was also a demonstration by the glass blowers for everyone to watch.  Some of the nicest I have seen for a long time.
I have included a photograph of a boat parked near us who obviously likes to travel with all the extras!!!
While we were sitting having dinner in the cockpit we were treated to an operatic performance by Donna Marie. She was doing an open air concert in aid of Childline in the gardens of the casino overlooking the marina.  A great way to end to a beautiful day.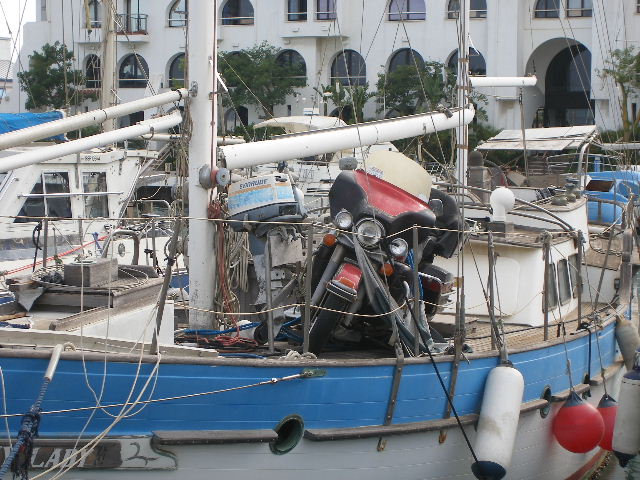 ---