36:34.789N 06:15.380W Puerto Sherry

Ariel of Hamble
Jim and Valerie SHURVELL
Sat 15 Aug 2009 20:09
36:34.789N   06:15.380W      Puerto Sherry
10th August, 2009.
After a very busy Sunday looking around Cadiz we motored across the bay 3 miles to the marina at Puerto de Santa Maria.  Unfortunately, there was no room in the tiny marina so we moved into the small bay outside the marina of Puerto Sherry.  The two marinas are only about one mile apart and separated by a sea wall.
There were lots of people on the beach and swimming so we tested the water temperature and to our surprise it was 30.2 which Jackie and Mark were very impressed with.  Swim wear on and we were all swimming off Ariel in the hot sunshine.  Very refreshing, a great way for us to cool down.  After lunch we moved to the marina reception pontoon to register and be given a berth.
Puerto Sherry is surrounded by beaches and very nice houses and the marina has a large number of facilities like a hotel, yacht club, tennis courts, outdoor seating for concerts, swimming pool, shops and 24 hour security.  Winter storage for small boats is in racks and they are very well provided for.  While we were in the marina the super yacht "Celestial Hope" appeared and moored.  It is on the internet for weekly chartering at 245,000 euros per week.  It looked very grand but we did not see anyone but crew on board.  No film star, tennis player, racing driver in sight!
We were treated to an open air music concert which went on until 2 o'clock in the morning which seems to be normal for this part of the world.
Unfortunately, the small supermarket prices are grossly overpriced with a sliced loaf being 3.70 euros which works out about £3.20 for us and not an ATM in sight.  Santa Maria is the nearest large town which can be reached by taxi or by bus we were told but we have not seen one, too far to walk to another supermarket in this beautiful sunshine.
13th August, 2009.
We left early afternoon in order to be in time for the correct tide at the entrance to Sancti-Petri but due to the very strong SW wind once we left the Bay of Cadiz Jim decided it was no worth the challenge we were going to experience getting there.  We turned around and went and anchored in the bay outside the marina and swam from the boat and stayed the night.  The wind dropped around 10 o'clock and we had a good night anchored.  Just as Jackie and I were completing some blogs we were treated to a small firework show in the distance.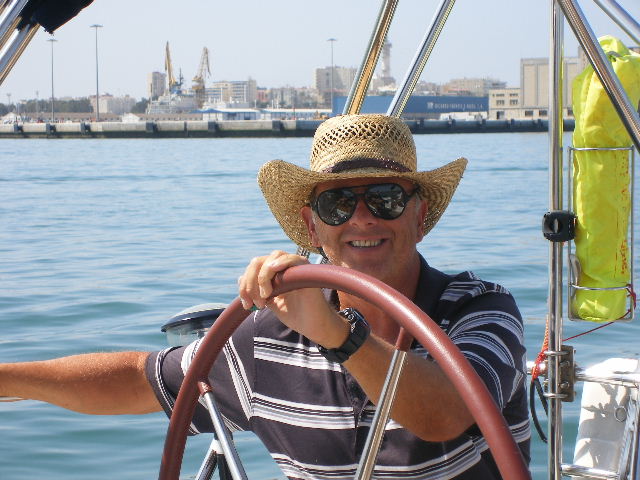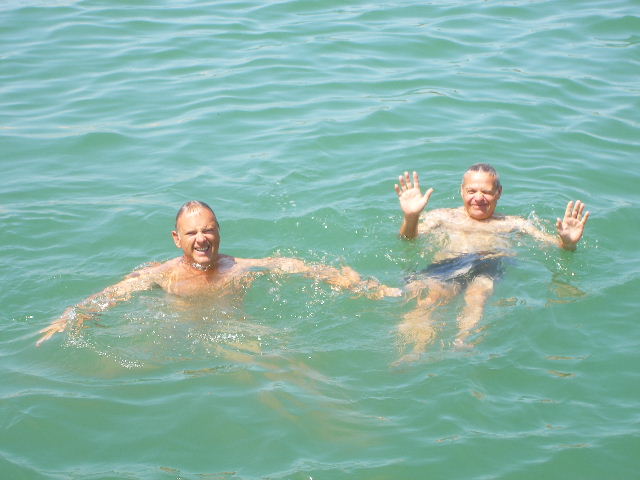 ---