Poros – Still here

Ariel of Hamble
Jim and Valerie SHURVELL
Fri 19 Jul 2013 15:04
11th July, 2013.

The wind is just starting to stop blowing 7 and 8's where we want to go up the inside of Evia.  We did intend to start off today but by the time we came in from Navy Bay it was gone 10 a.m.   As the main quay was a little busy and only one boat had left we came into the quay the other side of the pontoon which is very un-used by visiting yachtsmen's as there are lots of small pickup lines dotted in the water.  Jim managed to reverse us into a spot between a small cabin cruiser and a small fishing boat.  To be fair our friends used it last week so we knew it was safe.
 Jim found the diesel driver while I put out the washing to dry which Susi's laundrette washed last night. Even though Poros is an island it was the best price we had paid in the last two years.  I went off to find a hairdressers and Jim very kindly visited the supermarket and butchers just across the road from Ariel on the quay to give us some stores for the next two or three days.
The hairdresser was in the back streets and serves both sexes.  The shop front looks very jazzy and with a canary's cage outside I thought it looked quite suitable.  Inside the shop I found it was full of unusual items such as a very old typewriter, a brass cot with antique dolls, a 78's gramophone player set in a tall cabinet,  a diver's metal helmet and lots of pictures of Poros twenty five years ago.  I was amazed to see the tables were marble tops with Singer sewing machine bases just like my Nan used when I was small.  Playing in the background was Beatles music which made my day.
George cut my hair short and was very busy using one pair of scissors after another until he was happy.  I am pleased as my naturally curly hair has been going mad with the swimming.  Hopefully it will be cooler also.
Ariel now has a Poros curtsey flag just to make sure we come back here next year.
We had just one more ice-cream at Jim's favourite shop, a few drinks at the bar while we people watched and dinner at the Poseidon to finish off our time in Poros.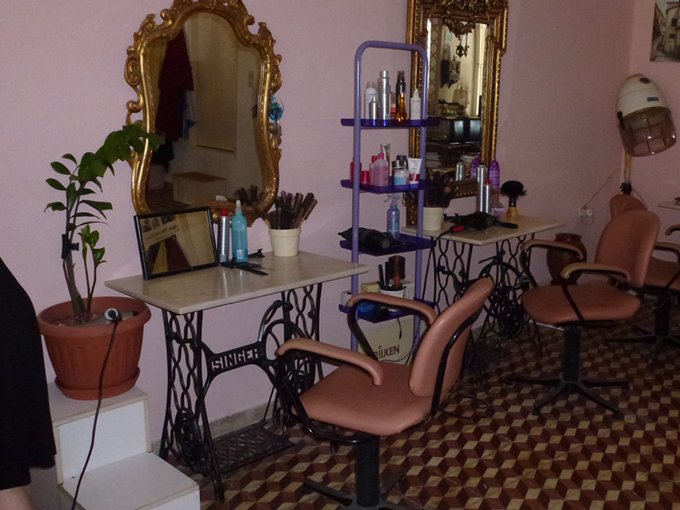 ---