43:25.732N 03:48.460W Santander Part 2

Ariel of Hamble
Jim and Valerie SHURVELL
Sat 27 Jun 2009 08:26
43:25.732N 03:48.460W     Santander Part 2
25th June, 2009.
The marina is quite a way out of town but very near the airport so we can hear the first and last planes of the day.  On our first night here we went for a walk and to our surprise there is a walking/cycling track all around the airport (seven miles) and we stood and watched the planes arrive and take off.  We could even wave to the passengers in their seats. Scary!
To get into Santander town we had to follow the marina instructions and walk for 20 minutes to find the bus stop where we duly waited.  The bus arrived and stopped in the middle of the road and let some people out and then drove off.  Oh dear, what are we going to do now?  Thank goodness an elderly lady saw our dismay and in Spanish pointed in the direction the bus went and then with hand signals pointed to the ground showing it would come back.  10 minutes later it duly arrived and we went on the circular tour to town passing lovely houses on the way.
We found the fish, meat and vegetable indoor market, the shops, the cathedral and beautiful park across the road from the harbour where we ate our lunch.  We walked along the harbour walk to the Santander Yacht Club where Jim spoke very nicely to the gentleman on reception and he allowed us up to the bar and we sat on the veranda overlooking the bay with beers.
We had read in our guide book about the fisherman's restaurants near the docks and how brilliant the food is.  We followed the map and it appeared we were in a housing estate. We were just about to give up as we had walked our little feet off when we found one of the restaurants. It didn't look so good from outside but we duly walked in as we had walked so far.  We were not disappointed as it was one of the best meals we have had since being away.  The 4 starters of fish dishes were wonderful and Jackie and Mark asked for sardines as their main course and 10 came on each plate!
We were so full and tired we called a taxi to take us back to Ariel.  Four very happy people!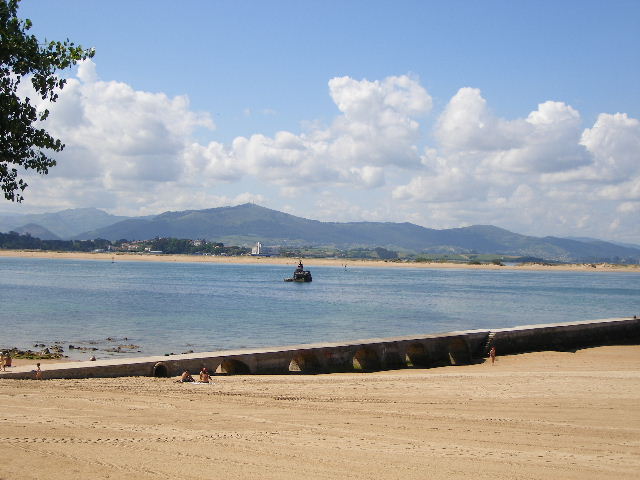 ---