36:43.43N 24:26.81E Milos

Ariel of Hamble
Jim and Valerie SHURVELL
Sun 7 Jun 2015 08:28
Milos
Tuesday 2nd June, 2015.
With the wind getting stronger by the minute Jim decided we needed to leave as soon as breakfast was over.  The big decision was to head to Sirfos where it was a small harbour or make for Milos to a big natural made harbour and a quay.  Milos was the choice of the captain.
The sea was sloppy and we ran with the genoa only.  The wind topped out at 34 knots with a Northern meltemi.  It took us four hours to cover the 27.67 miles.  We made for Adamas with a big concrete wall to hide behind.  The twin bears welcomed us into the approaches.  Soon after we passed the Christian catacombs and lots of small fishing villages on the water's edge.
This is our home for a few days until the meltemi abates.  Due to its volcanic origins Milos is said to be rich in minerals and some spectacular rock formations.  The pumice moonscape of Sarakiniko was formed two to three million years ago.  There are lava formations known as "organ pipes" offshore near Philakopi and sulphurous blue water at Papafragkas.  There is a number of hot springs and the sea can reach 100 Celsius only 30 cm or 12 inches below the surface.  Tomorrow we are out in a car finding these places.
The tourist trade is growing here with the number of ferries which arrive each day bringing people, cars and lots of lorries to the island.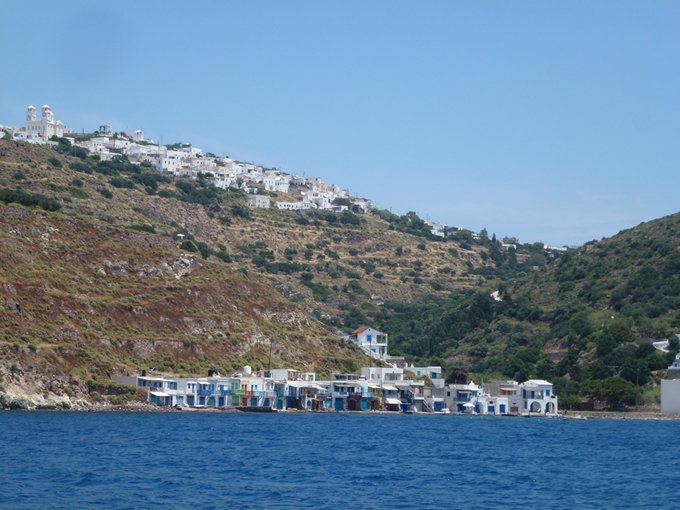 ---