38:27.53N 20:34.94E Fiskardho, Cephalonia.

Ariel of Hamble
Jim and Valerie SHURVELL
Thu 2 Aug 2012 13:32
Fiskardho, Cephalonia.   Saturday, 28th July, 2012.
The four of us decided to sail or motor to Fiskardho on Saturday morning as it is always quiet on Saturday's as the flotilla customers are on their way home.  Jim and I set off after Tricia and Clive and we tried to sail most of the way but just as we reached the top of Ithaca we could see the water ahead was becoming very confused.  Time for us to bring in the genny and motor for the entrance.  The wind here is very funny.  In the mornings it is often blowing from the east and then late in the morning it sometimes drops and by 2 p.m. it is back usually from the north or north west but blowing at a much stronger strength and then drops sometimes during the evening or even after you have gone to bed.
We arrived before Tricia and Clive and were tying up when they arrived and motored in beside us.  We spent three nights here and enjoyed the beach, the restaurant for Sunday evening dinner and generally entertaining each other with meals.  Tricia and Clive enjoyed the walk to the castle and the views which is something everyone should do as it is so pretty.
During the day the ferries come and go and as soon as the last ferry disappears around 7 o'clock a large super yacht comes in and ties up on the quay and this happens every day with the port police in attendance. We were delighted to see a gentleman's 1929 boat come in and we spotted the actor from "The Pianist" who with his minder went off mountain bike riding and then later sat at the table next to us.  The next day another super yacht arrived with three dark hair girls who looked like sisters and models with their Mum and two children.  Not a chance on guessing who they are!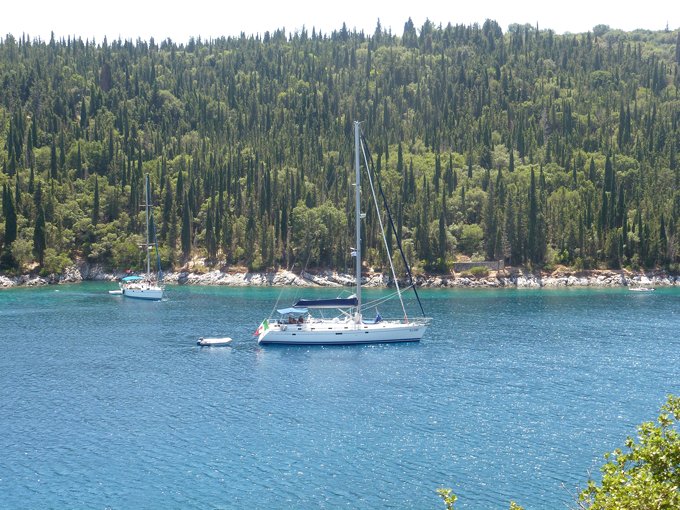 ---