40:54.97N 08:42.28E Castelsardo

Ariel of Hamble
Jim and Valerie SHURVELL
Wed 20 Oct 2010 14:07
40:54.97N   08:42.28E   Castelsardo
We left Bonifacio on Tuesday morning being the first time the wind had stopped howling.  During the night it was still blowing and we were lying in our beds thinking we will not be going anywhere today but by breakfast time it had abated. 
It was sad to see the Bastion de l'Etendard and its massive towering walls and "Grain de Sable" start to disappear from our sight.  The Grain de Sable or Grain of Sand is the rock which broke away from the cliff over 800 years ago.  It is one of the most recognisable rocks around Corsica.  The cliffs are famous for birds which nest in this wild stretch such as shags, herring gulls and the rare Andouin's gull which we have not been able to spot.
We had a marvellous sail broad-reaching in the sunshine making the most of getting a little more tan.  The 39 ½ miles took us around 7 hours into the little marina at Castelsardo in time for afternoon tea and coffee.
Frank and Sue were delighted with the walled city from the sea as it looks very impressive. The following day we climbed up to the top to the castle for the wonderful views over the town.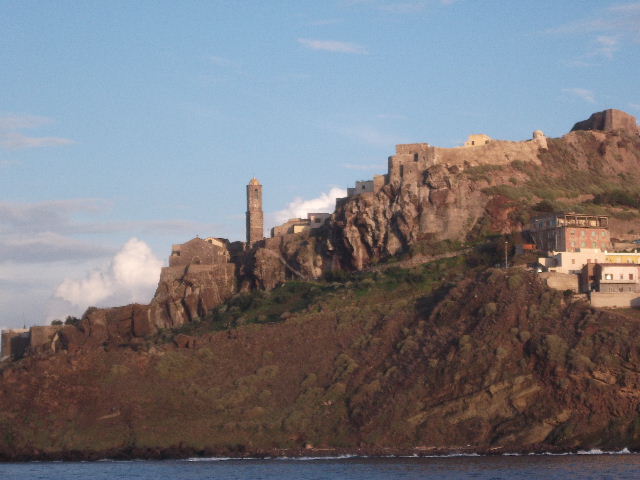 ---