Poros

Ariel of Hamble
Jim and Valerie SHURVELL
Thu 6 Jun 2013 09:47
6th June, 2013.

We were in two minds whether to leave yesterday morning but after paying the Port Police and she asked if we were leaving today we decided yes we would stay another night as it is a delightful spot to watch the world go by.
We pottered around during the morning and bought another chart to cover the island of Evia for later in the year, 40 metres of line and a couple of blocks for a project Jim has in mind on the main before sitting down at a very nice cafe for coffee and wifi.  It is a very relaxed place and the feeling of hurry does not appear to exist.
After lunch we spotted a mother duck for Sailing Holidays steaming in before their ducklings appeared.  The engineer called Bobby from Guernsey came and spoke to us and Jim was telling him about the fact his friend Stuart was sailing in the Ionian two years ago on a Sailings Holiday flotilla  and as we didn't know we missed seeing him.  He told us they had a group of Cambridge river boaters with them this week and they did have a Stuart on a 44 ft boat. Stuart and Jackie bought a river boat when they moved to Bedford so we thought it could be possible. We laughed and said wouldn't it be funny if we had caught up by accident.  Stuart, Jackie, Pat and Ray all duly arrived and dropped their anchor and Stuart very expertly reversed into a difficult spot with the wind blowing him on.
While reversing we could see he was looking at Ariel as the colour is quite unusual but thought it can't be.  Stuart and Jackie were overjoyed to see us and we spent the rest of the day together catching up on all the news and later we had dinner with their group of friends.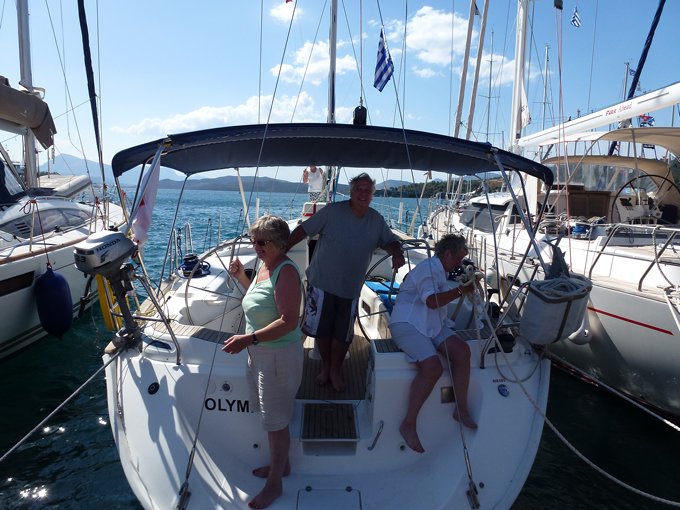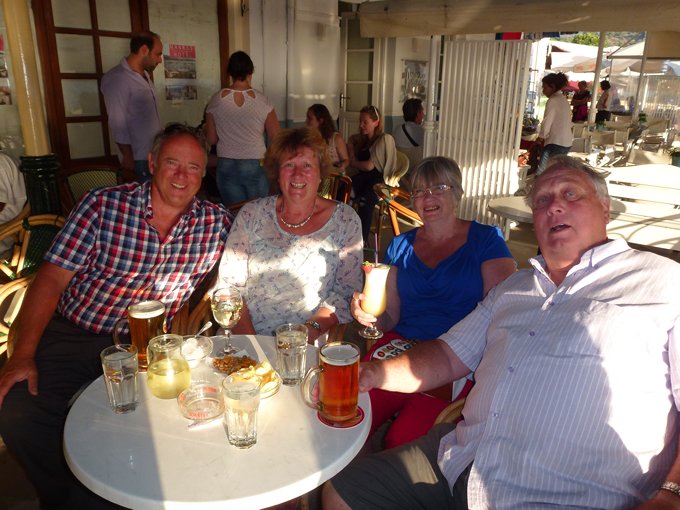 ---