37.29.89N 23:27.32E Poros

Ariel of Hamble
Jim and Valerie SHURVELL
Tue 18 Sep 2012 14:33
37.29.89N    23:27.32E    Poros
Monday, 17th September, 2012.
We left Idhra after waiting for the boat in front of us to take water on board and do some shopping.  We said goodbye to our neighbours and off we went.  On putting the fenders away we found that some kind person had left us one short!  Apparently, we found out later this is not unusual on the island.
The wind was as usual on the nose so we motored across the Steno Idhras and up to the small islands of Spathi and Skilli and passed between then heading north for Poros.  We liled the rock formations which looked like a hedgehog.  We covered 11 ½ miles on our journey from one quay to another.  The wind was getting up and we could see lots of breeze out to sea which we fortunately missed as we came into the shelter of the mountains of Poros. We decided we could wait for a swim another day as we thought when we first started off we would stop in one of the bay.
Poros is separated from the mainland at Galatas by a 1300 feet sea passage.  Poros itself is two islands joined by a causeway.  Pine trees to the north and the town of Kalavria which was built around a spring and the smaller volcanic islet of Sfairia in the south over which Poros town is built.  The ferries and hydrofoil arrive and leave regularly.  The 19th century houses along the quay area extend in tiers back from the harbour area to the top where there is a clock tower. It is quite interesting that one house has been built around a large rock. There are lots of little supermarkets and to Jim's pleasure a fish market where he bought a very nice Dorado for our dinner.
On our walk around the smaller island we saw the National Naval Academy which was set up in 1849.  An old battleship is kept for training naval cadets.  We also found lots of memorials remembering a relative. 
A sailing regatta of six boats all dressed in different coloured shirts with matching flags went out down the passage with a boat in front with pipe music.  It must be a start of a rally like we did last year in the South Ionian and won!
The ruins of the Temple of Poseidon is near Kalavria but unfortunately it is just a little too difficult to visit and we understand there is very little to see now.
Just after we filled with diesel another boat came in and to Jim's surprise it was the one which he had crossed the Bay of Biscay for the first time on a job boat called "Bluestar of Broadway".  We had a very jolly evening and a meal with the owners who Jim had spoken to many times at the sailing club.  On Idhra four days ago he recognised another club member and spoke to him.  Two people in one week, the first in four summers.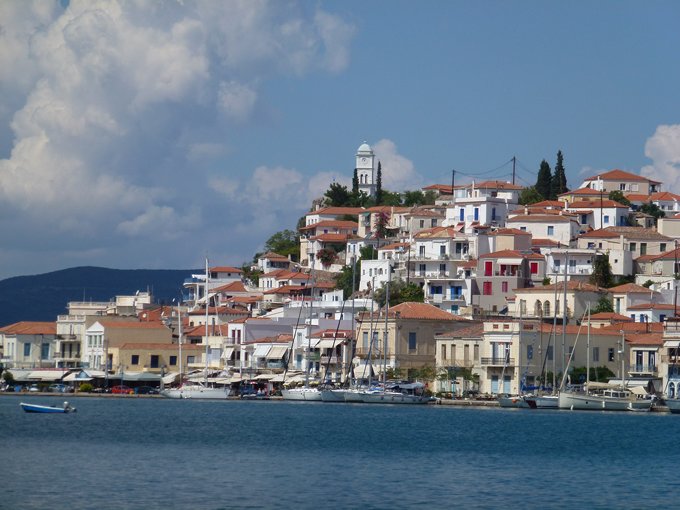 ---