37:21.28N 23:29.00E Mandraki Bay

Ariel of Hamble
Jim and Valerie SHURVELL
Sun 7 Jul 2013 10:14
Saturday, 29th June, 2013.

After a little more shopping and a very nice ice-cream we left Porto Kheli for Idhra where we hoped to anchor in Mandraki Bay so Frank and Sue could enjoy the scenery and visit the town.  The winds were being kind to us and we managed to sail most of the 21.5 miles to the bay. 
We had noticed the beautiful wood boat which is on a buoy in the bay leave Porto Kheli while we were having ice-creams after waiting for its passenger.   The boat flies a huge Greek flag and at least six club flags.  We were told by an English couple that the ex King of Greece owns the boat which two chaps lovingly look after every day.  We have seen from a distance the gentleman who when on board sits on the deck in what looks like a director's chair but we had not guessed he was Royalty.  Just as we came along Idhra we spotted the boat in a small cove along a quay with houses now with bunting flying.  What is going on we wondered.  As we got closer to Idhra town there was a war ship also with bunting anchored off the town.  Now we knew Idhra must be celebrating possibly a Saints day or maybe the Kings birthday we will have to find out more.
We motored past the town and into Mandraki Bay and anchored nearer the beach area this time.  We did at first think we would anchor and takes lines to the rocks but the wind was blowing off two boats so we decided we would be better swinging.  We needed a swim as the sun was very hot and Ariel's ladder was soon put down after the dinghy was in the water.  Although very deep the water is as clear as can be.
Jim decided to stay with Ariel as the wind was blowing down the mountain.  Frank rowed Sue and I to the shore where we left baby Ariel safely tied up.  Unfortunately, the beach area where we landed was part of the taverna's property and to leave it we had to walk through the taverna to reach the road to walk along the cliff into town.  We are masters at avoiding restaurant owners who try and persuade us we need to eat at their establishment.  Again we managed to get away.
The walk into town is along the coast road where houses are scattered along the cliffs overlooking the sea.  Once we reached the corner which looks into Idhra we saw an area taped off with hundreds of large fireworks.  It is getting better and better we thought.  On the quay was a band playing and more fireworks positioned on the railings.  A television recording crew had set up their cameras, laser light equipment was around the quay and people were hogging seats at the quay restaurants without any food for later.  We saw a great number of men and women in summer white Navy uniform wandering around.  We asked in a shop and the lady tried to explain but we only picked up it was to celebrate a hero's life but there would be fireworks at 9.30 p.m.  We love a few fireworks and have not seen many since arriving in Greece.
Frank, Sue and I were now quite hot from the walking so we headed for the sunset bar for a beer.  Crowds were starting to form along the wall but we were lucky as there were lots of seats at the bar. We telephoned Jim to say we were on our way back and that there may be a big display of fireworks.  In Mandraki Bay we had seen an old ship being prepared with rubbish and what looked like boxes of fireworks.  White sails were holstered and the old ship became a galleon.  We learnt in town that a ship is set on fire in the first part of the fireworks display and another ship goes out to put out the fire.  We had thought at first it was just a rubbish boat taking the rubbish to the mainland.
The wind was not going to be good for us to stay in Mandraki Bay for the night as night gusts were forecast to start around 3 a.m. from the north and blow straight into the bay so it was decided we would wait and head around for the fireworks at 9.30 p.m. and then make our way into Poros and anchor in South Bay.
We had not reckoned on the 9.30 p.m. to 11.00 p.m. service by the priest over the loudspeaker.  Jim very skilfully managed to keep Ariel just in line with the warship which was now flying bunting with fairy lights until the wind started to blow 15, 16, 17 knots plus.  Now was time to go Jim decided and we motored away.  Ten minutes later we could see back at Idhra the burning ship which didn't seem to be put out and at least 15 minutes of wonderful fireworks.  We were actually quite pleased we were not still outside the town as the rubbish from the fireworks would have caused us lots of work!
We could not risk going between the gap between the islands (which is a short cut everyone takes each day) in the dark so we motored around the island into sight of Poros and the South Bay where a large motor boat was anchored.  Although it was well after 1 a.m. by now we were in a very secure quiet place in sight of the Navy College.  It was one of the quietists night we have had.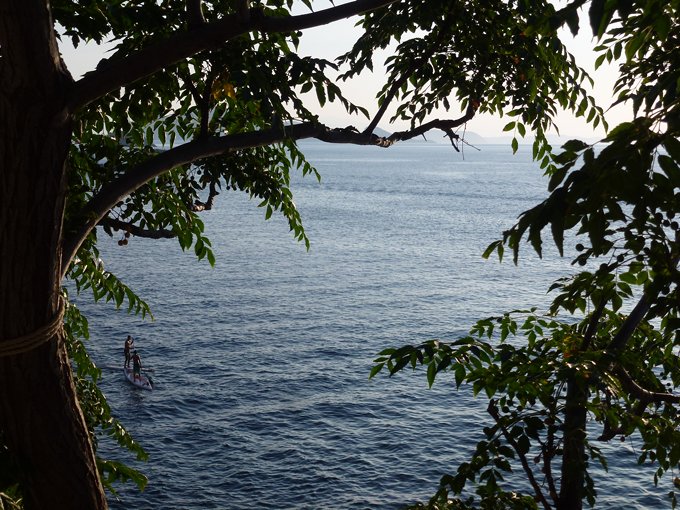 ---