37:52.2N 24:02.7E Port Rafti

Ariel of Hamble
Jim and Valerie SHURVELL
Sun 30 Sep 2018 16:46
Saturday 22nd September, 2018.
We wake up late after waiting for the bridge to open the night before.  Once we had had breakfast we were on our way as we hoped to make Port Rafti without any problems.  The weather reports show a huge storm coming from the north and affecting the Evia channel, Northern Sporades, Cyclades and sweeping all the way down to Crete so we need to be back in Poros before this happens.
It was a beautiful day of sunshine and we were motor sailing across the south gulf of Evia past Oropos and around Apostolou.  The wind from Evia blew hard across the water from the NE Voufalo area.  The sea started to build and very soon big waves were hindering our progress. One boat turned back as he was being hit hard but with no depth sounder and trying to get into a harbour which is small and we don't know it is not easy so we carried on.  We had hoped to go and hid behind the island of Stira but the wind was far too windy to even try. Our only option was to continue on hoping once we were further away from the high mountains of Evia we would be able to sail on for Port Rafti.
As we sailed on away from the great height of the mountains the sea started to be less fierce.  Yachts going north were being nearly knocked flat. There was nowhere for us to go so we just continued to make for Port Rafti where we arrived at 8.30 p.m. in complete darkness but for a bright moon behind us.  We tried hard to see the mooring buoys in the moon light and we anchored as far as we could near to the town area.  We had been here on our way up Evia several years ago thank goodness.  Chicken curry as soon as possible please was the order from the captain as it had been a long journey.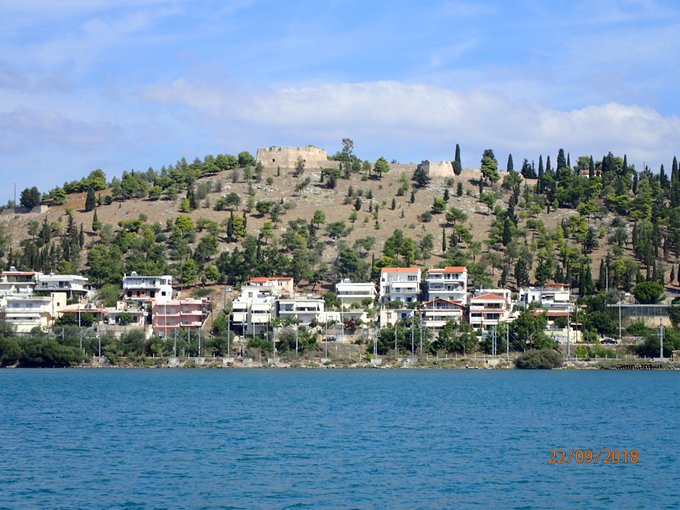 ---