36:45.31N 28:07.73E Orhaniye

Ariel of Hamble
Jim and Valerie SHURVELL
Tue 8 Oct 2013 13:11
Monday 7th October, 2013.

Today is the first day when the wind has not been gusting and keeping us on the harbour wall.  We have paid for five nights on the wall safe and tucked in waiting for the storm force winds to subside.  Rhodes has been having 7 and 8's most of the week. We have met some great people all sitting out the winds and waiting to move.  Our friends Geoff and Ann in their motor boat sat out the storm on anchor which they had not enjoyed as the wind did not stop howling and moaning for days on end.   We met up and exchanged stories yesterday over Sunday lunch.
We said our goodbyes and motored out of Bozburun harbour passing the huge hanger where the Chelsea football owner is having the largest wooden ship built and out past the little islands in the bay.  With the sails up we managed to sail for the next few hours all the way to Orhaniye covering 22 and half miles.  We passed on our way about six beautiful looking hotels with their private beaches miles from any towns we could see.
We were pleased to see a big race fleet of mixed countries coming towards us as we made our way up the big bay with some sporting Rolex stickers enjoying the wind which was in their favour.  Nothing like the number of boats or the big race boats with twenty crew we witnessed in Sardinia three years ago.
Orhaniye has a large marina as you enter the bay called Marti and further into the bay is a small sailing school with a few noisy jet skis.  The funniest thing is the sand bar which runs along the bay for about 400 metres has little groups of people constantly walking out as far as they can with the bravest continuing until the water is lapping their middles.  We found a great spot to anchor at the head of the bay in view of the large island with the ruins of a Byzantine castle looking down on us.
The high mountains around us are very green and we can smell in the air the pine trees as we sit in the cockpit.  It is a very pretty area and we are lucky the weather has improved and we are able to enjoy the scenery Turkey has to offer.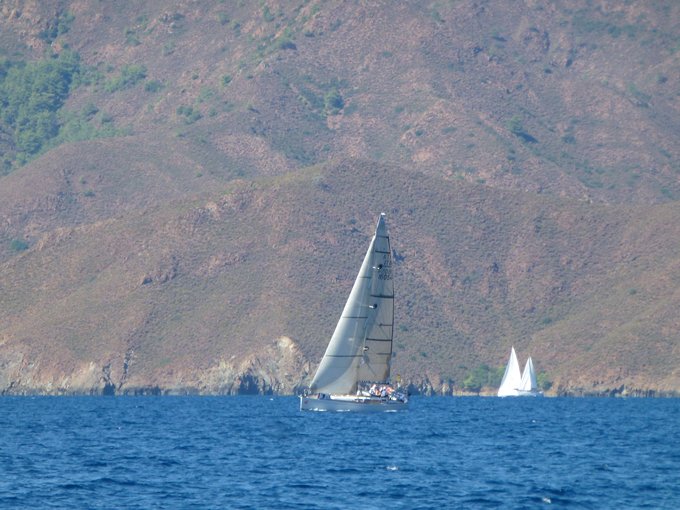 ---