37:34.44N 24:16.13E Kea Island Vourkari Bay

Ariel of Hamble
Jim and Valerie SHURVELL
Sun 29 Jul 2018 16:12
3rd June, 2018 Sunday
By 8.15 a.m. we had slipped our lines and were on our
way to Kea having waved to our friends on their way to
Kithnos. The wind and tide meant we were tacking and
motor sailing nearly all the 53.38 k. miles. Jim turned
off the engine as much as he could and we had long
spells of sailing but the water rushing down off the side
of  Evia presented a challenge.
We anchored opposite the taverns as the quay was full
of charter boats and ribs.  The evening was very
pleasant and around 8 o'clock the rib riders started their
engines and there was a mass exodus all heading
towards Athens. Kea is a beautiful little island and is
known as the hidden pearl of the Aegean retaining
much of its rural charm and is very popular with
walkers. Many Athenians escape to Kea at weekends to
get away from the smog of the city.
In the Kea Channel there is the remains of the sister
ship of Titanic which was originally named Gigantic
but was renamed after the Titanic disaster to Britannic.
Launched in 1914 she struck a mine while serving as a
hospital ship on the 21st November, 1916.

 

She was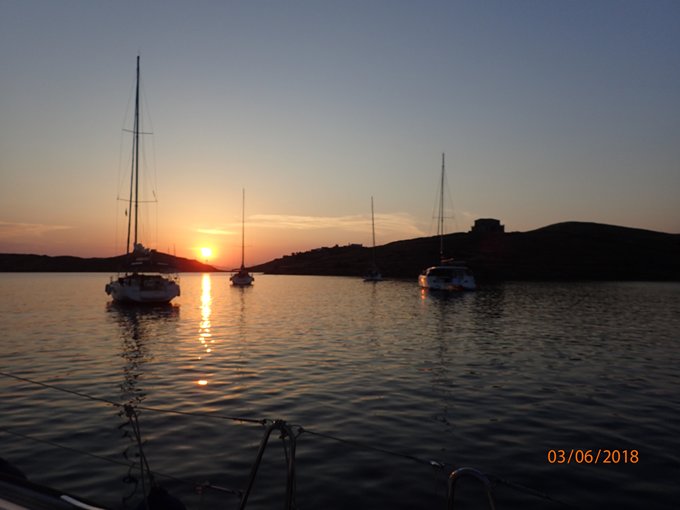 ---