43:27.77N 005:03.572W Ribadesella

Ariel of Hamble
Jim and Valerie SHURVELL
Thu 2 Jul 2009 08:08
43:27.77N  005:03.572W  Ribadesella
28th June, 2009.
We had left the marina at Santander by 9.30 a.m. in order to get to Ribadesella by high water in the evening.  As we motored down the river we put our sails up but as soon as we were out at sea the sails had to come down as the wind was now on the nose.
We covered 68.57 nautical miles mostly under constant hot sun and arrived around 8.30 p.m, unfortunately using the engine all day.
The coast from Santander to Ribadesella is wonderful.  The whole coast line has mountains in the background and some of the higher ones had snow at the top which we could see.  The cliffs are quite dark and sinister looking as you pass by.  We could see small collections of houses every now and again with only a small number of beaches with the mountains constantly in view.
About one hour from Ribadesella we could see a thunder and lightening storm on the land but fortunately it didn't come out to sea.
To enter the harbour we had to identify the sheer cliffs of Punta del Caballo but luckily there is a small church on the top with a leading light on a tower.  We needed to keep a good distance off shore due to the rocks. The entrance to the harbour is south and then sharp left keeping close to the wall as the beach is on the other side of the harbour and therefore shallow.  We motored in slowly with the four of us on depth and rock watch before finding a space on the wall which Jim reversed into.  The many people on the wall who were watching congratulated him on his manoeuvring of Ariel into such a small space.
Mark was up twice in the night adjusting the lines as the tide dropped by at least 15 feet, which is scary when you see how quickly it happens.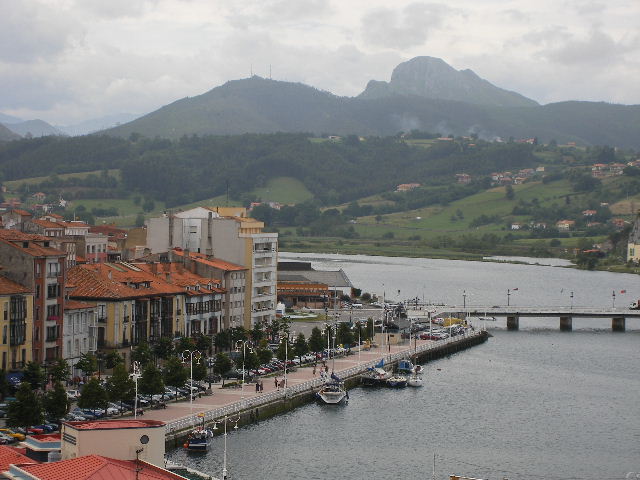 ---