St Helena to Ascension Day 4 - It's a moonlicht nicht tha' noo

Caduceus
Martin and Elizabeth Bevan
Sun 12 Feb 2017 04:27
Position 10:29.66 S 011:46.68 W
Date 2359 (UTC) Saturday 11 February 2017
Distance run in 24hrs 126nm over the ground, 119nm through the water
Passage total 489nm over the ground, 470nm through the water
Distance to go 224nm
Planned distance St Helena to Ascension 705nm
The night watches have benefited from a waxing moon and as each diary entry has part of two nights, running from midnight to midnight, We have enjoyed a full moon and a not quite full moon which has provided beautiful illumination.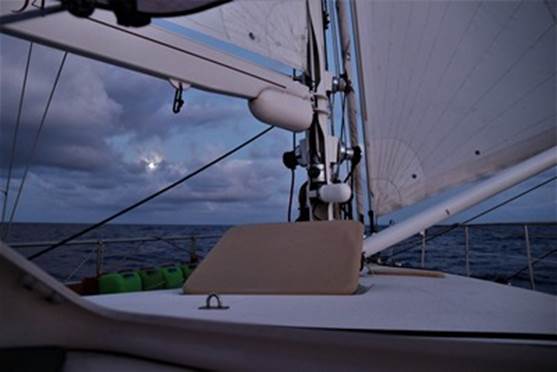 The setting moon in the not so cold light of dawn – the main to port and genoa poled out to starboard
Today has been a day of slow progress, but we have kept moving and sailing gently in a slight easy swell. A highlight of today was lunch when the Mate produced ostrich steak and caramelised red onion rolls.
---