Tonga Part 1 - Neiafu, Vakaeitu, Kappa, Neiafu

Caduceus
Martin and Elizabeth Bevan
Sun 21 Sep 2014 03:13
Position 18:43.38S 174:06.07W (Vakaeitu)
Date Period to Wednesday 4 June 2014
Think Tonga think free range pigs. They are very much part of the local scene. This fine figure of a sow was just about to cross the main street in Neiafu.
And this chap was helping with the laundry.
We stayed in Neiafu for a number of days and then took ourselves off for a week to explore some of the nearby islands.
On Vakaeitu There we met David and his family, or at least some of his 13 children, and exchanged gifts.
We even took some food waste for the family pig who seemed impressed.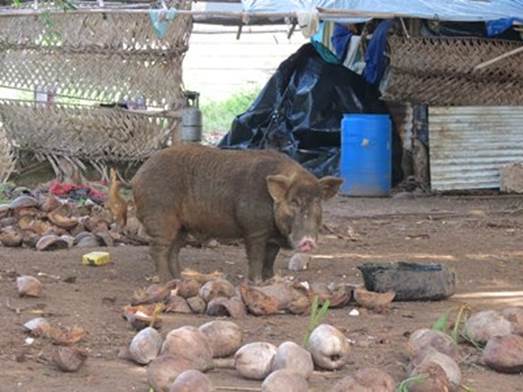 Two of David's younger sons took us for walk across the island. Even this youngster of 9 years old was brandishing a machete to clear the bush from the path.
From the anchorage at Vakaeitu it was a short dinghy ride across to the reef bridging the gap between that island and the next and known to cruisers as "Coral Gardens". Whilst the reef dries at low water on the high it is possible to swim over, just:
To the deeper water on the far side which provided some wonderful snorkelling.
---