To Pulau Banta and a quiet anchorage

Caduceus
Martin and Elizabeth Bevan
Wed 28 Oct 2015 17:00
Position 08:26.03 S 119:18.19 E
Date 1700 (UTC+8) Wednesday 28 October 2015
Trip total In 2hrs 11nm over the ground, 10nm through the water
Arrived at Pulau Banta Island, Indonesia
Batu Montjo provided some good snorkelling over beautiful coral with an interesting population of fish including what we think are Dusky Bar Fish, last seen by us in the Seychelles. Being on the main island of Komodo any thought of gong ashore to stretch our legs was dissuaded by distinct dragon tracks on the beach.
We did our best to sail but as we encountered a south going, ebb tide current of up to 5 knots on the beam motoring was required to avoid being flushed down stream. The pilot book warns that approaching the island of Pulau Banta strong currents may be encountered. Fortunately we had wind and tide together but the result was still some vigorous swirling water, fortunately with a depth of over 100 meters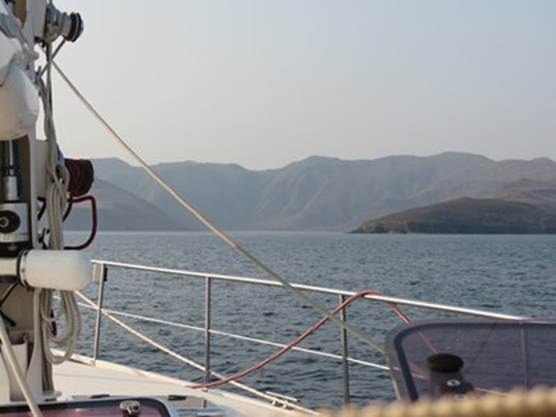 Heading into Pulau Banta and what appears to be a caldera
The anchorage of Pulau Banta as just what we were looking for with great protection and no swell, at least with the prevailing conditions. When we leave it will be necessary to time our departure to coincide with a north going current which conveniently is a morning occurrence at the present time.
---