Carvers Cove Vinalhaven and a chance meeting

Caduceus
Martin and Elizabeth Bevan
Thu 14 Jul 2011 19:00
Date                2000 – Thursday 14 July 2011 (UTC -4)
Morning in McGlathery Island saw a wind shift that put our stern rather close to the steep to shore.  As the other boats in the anchorage moved there remained a largish motor boat on a single mooring in the middle of the bay.  We re-anchored but in the way that these things go wherever we set down we ended up too close to the moored boat if we swung through 360°which with little or no wind we were quite likely to do.  The answer was to move off to the next anchorage well in time to get ashore and walk.  So it was off to Vinalhaven Island, in the south of Penobscot Bay, and the Carver Cove anchorage.
There are many beautiful boats, known locally as windjammers, sailing charters in these waters, out of Camden, Boothbay and Rockport.  This view shows one in the distance, north of McGlathery Island with a positive murrain of the dreaded lobster buoys scattered in the foreground.
The wind having come up a little from the north west we were able to sail most of the 9nm through the rock and island strewn passage east of McGlathery and across to the Fox Passage between the large Island of Vinalhaven to the south and North Haven Island to the north.
Our destination was Carver Cove but 'quelle horreur' there was a yacht already at anchor.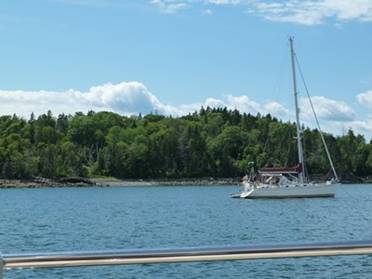 You can imagine our surprise when the VHF radio barked out a greeting from Mewari, Bob and Sue Dall OCC members and whom we had last seen in the Chesapeake.  We knew from emails that they were coming this way but what chance an unplanned meeting?
We had a very jolly walk ashore together and with lots to talk about we repaired back on board for drinks during which there were many claimed sightings of seals – mine was genuine and there was a photograph to prove it!
---