More from Norfolk

Caduceus
Martin and Elizabeth Bevan
Fri 27 May 2011 21:59
Position 36:51.14N 76:17.89W
Date 2359 - 27 May 2011 (UTC -4)
Regrettably the bowthruster motor was not a refurbishment job. The commutator, for whatever reason, had delaminated and chewed up the brushes which meant a replacement. Auto Electrical Services, however, were great. They organised a new motor and shipment from Massachusetts with a delivery date of Friday so we had to sit and wait.
On Tuesday we visited Nautica, the maritime museum, and the battleship Wisconsin that is moored alongside as an exhibit.
The museum was excellent and the Wisconsin a real education. Wisconsin was built for the final stages of World War II in the Pacific; saw service there, in Korea and Vietnam. She was re-commissioned in the 1990's for the first Gulf War where her 16 inch guns and Tomahawk missiles were used to devastating effect.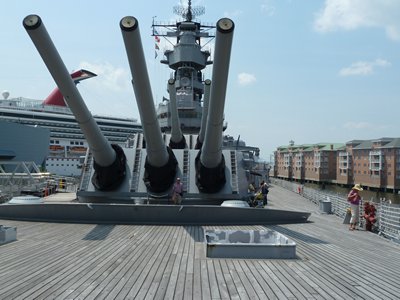 Walking back to the boats we saw black clouds coming from the west. Black indeed! Within twenty minutes we had winds gusting to 60 knots blowing straight into the slip, lashing rain and water that appeared to boil as it surged us backwards and forwards. With help from Andrew we got extra lines on Caduceus which prevented any damage to the boat; we did however destroy a dock box on the pontoon with our anchors. Fortunately they are easy to replace. There have been numerous devastating storms this spring on the eastern seaboard and this was one of the worst causing large scale damage and death. In one small town in Mississippi this storm killed over100 people and 200 are still not accounted for.
On a happier note we spent time "street walking". The old part of Norfolk is particularly attractive and there are footpaths along the river that are full of interest.
It was our intention to take Gary and Greta out for a meal to thank them for their incredible hospitality. At Greta's suggestion and Gary's preference this turned into a delicious take away meal provided by us. This allowed Elizabeth to get some serious dog therapy from Bella.
On another early morning walk we met a retired doctor, Al Roper, and his dog Nicholas.
We think that Nicholas is dead ringer for boat mascot Rodney.
The dognapping was, fortunately, not successful.
The replacement bowthruster arrived mid morning on Friday and after a very sweaty session in the sail locker, where the now thruster is located, and not a little blue language it was fitted and tested. As a treat after my technical exertions, and a shower Angus, the owner of the motor boat moored between Alice and ourselves, invited Andrew and I to join him in the Norfolk Boat Club for Friday Happy Hour. The Boat Club is an all male club formed over a hundred years ago as a rowing club. Its statutes say that it should have exactly 100 members. Rowing has been replaced mainly by power boats. The club house is next to the Pilot House dock. The photograph was taken as we were leaving the dock. Angus' boat is on the left, our berth next to it, the Pilot House Condominium is just left of centre and the Norfolk Boat Club is on the right.
---