Visit Lisbon

Caduceus
Martin and Elizabeth Bevan
Sun 26 Sep 2010 20:00
We may appear to have taken root here, in reality it makes sense o allow one or two things to settle down, in particular Elizabeth's back, before we subject it to more sailing.
Today was a tourist day and armed with that essential, a packed lunch, we cycled to the station and took the train into Lisbon. On the advice from others, we purchased a day ticket for two of the open topped tour routes which proved most successful. Lisbon, like Rome, is built on a series of hills and is very well spread out.
Our routes took us out from the centre,
to Belem in the West where we visited the Jeronimos Monastery followed by the excellent Maritime Museum that is located in the western wing of the monastery and to the site of the Expo Portugal Exhibition from 1999.
For those that have not been paying attention to previous entries and hence may not know the conditions under which we live aboard the following photographs are not (1) the cabin of Caduceus:
or (2) the means by which the Skipper gets ashore: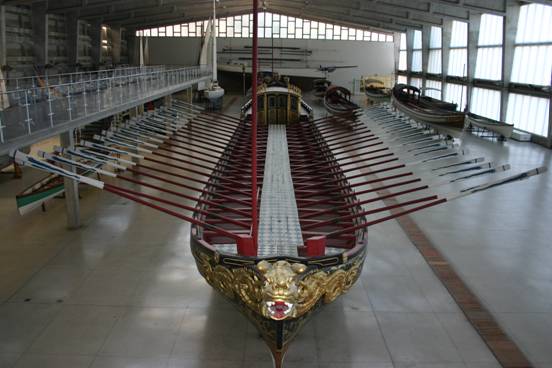 Both are exhibits from the museum. (1) the King's cabin from the last royal yacht and a royal barge from the 19th century which was used to convey our own Queen during her last state visit to Portugal.
---