Fenfushi, Kolhumadulu Atoll - some wind, too good to miss but it meant a late arrival

Caduceus
Martin and Elizabeth Bevan
Tue 29 Mar 2016 16:55
Position 02:17.824 N 073:16.343 E
Date 1755 (UTC+5) Tuesday 29 March 2016 through to Thursday 31 March 2016
Distance run 45.3nm over the ground
We actually sailed for 90% of today's passage at speeds varying from 2.5 to 7.5 knots but what a joy after so many days of motoring. The motor was required for the last hour in order to arrive with 30 minutes of daylight to spare. The late afternoon arrival made finding an anchor spot more difficult but fortunately what sunlight there was left was behind us. Our anchor spot was a mile or so south west of two active resort complexes and no doubt the coral heads just inshore of us are used by guests. Our anchor went down on sand in about 12m and we laid a stern anchor to ensure that we did not swing over the shallower coral.
As we were not approached by anyone from the resorts, which looked very quiet despite the twice daily sea plane arrival we stayed put for Wednesday and erected the centre sun awning. The snorkelling was fabulous with some of the best corals we have seen in the Maldives. Hunting Spinner Dolphins passed by during the day. To add to the pleasure, we had a squall pass though during the afternoon which cleared the promenade deck and washed things down. The "rain" awning coped well with the 25 knots of wind.
One of the many splendid bommies and a large batfish doing a swim by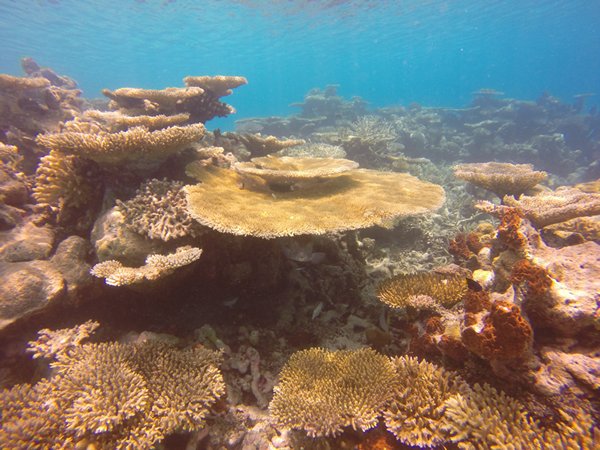 Look carefully, lurking under the flat coral is a very large puffer fish
Told you so!
---