41:22.31N 8:45.88W Thursday 8 September Bayona to Povoa da Varzim, Porto - with Andrew

Caduceus
Martin and Elizabeth Bevan
Thu 9 Sep 2010 22:59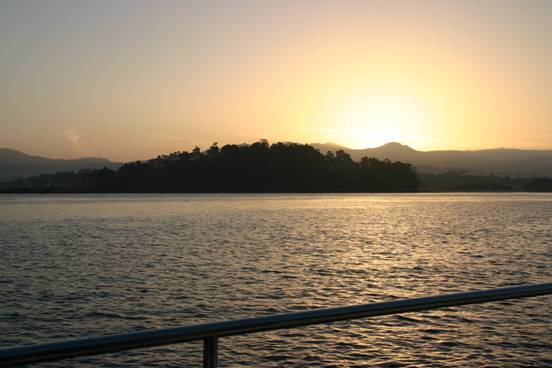 The forecast looked good, even if at 08:00, as dawn broke – happens late in this part of the world due to being west and the fact that Spain uses central European time – there was no wind and the makings of a good swell outside the harbour. Stugeron having been popped all night the crew were optimistic about keeping breakfast down.
Off we set at 08:30 to follow a Joint Service Sailing Centre yacht "Chaser", or it might have been "Dasher". This is Nicholson 55 built in the early 1970's and a sister yacht to "Sabre" on which I took my Offshore Yacht Master exam in 1973.
Wallow, wallow but no mud just impressive outlying rocks over which the swell broke, despite no wind. We rounded the headland to the west of Bayona and set a course south for Povoa da Varzim, our destination marina for Porto. We were soon enveloped by fog, visibility 50m, radar on the go and the fog horn playing its baleful tune. "Did not see a thing, Sir" and eventually we motored out of it, into sunshine and a pleasant north west breeze. The fog and clouds continued to limit visibility but provided some great effects.
Time to try the cruising chute with its new snuffer. Elizabeth wisely retired below, rather like Sir Joseph Porter of Pinafore fame, and Andrew and I had an entertaining hour introducing 1,450 sq m of sail to the constraints of the snuffer. Elizabeth re-emerged to find that her cockpit had been taken over by a large white slug and two exhausted sailors. Nothing ventured etc., we then hoisted said slug and defying any form of convention, or murphy's law, it deployed first time and worked really well all the way down to the Povoa da Varzim breakwater where it allowed itself to be snuffed without problems – deeply suspicious, abnormal and deviant behaviour.
We arrived at Povoa at 18:00 and moored in 20kts of wind, blowing us off, without incident and with the help of the welcoming marina staff. Dinner ashore in the marina club provided Elizabeth with her first experience of salt cod and very good it was, as was the rest of the meal.
---