Anse Colombier - a little bit of paradise

Caduceus
Martin and Elizabeth Bevan
Wed 6 Apr 2011 20:00
Date 2100 – 6 April 2011
Our original plan was to sail over to St Maarten and Philipsburg but Anse Colombier was seductive so we stay on here. We subsequently found that Philipsburg is a port of necessity, a bit like Ryan Air, a last resort.
The League of Health and Beauty declared a bracing walk.
John declined deciding that the boat required guarding. I went along to keep the minutes.
What a treat. From Anse Colombier there is a cliff top footpath to the village of Flamands. The views over the windward side of the island are magnificent.
Flamands itself is a village of residents and some holiday accommodation all set off with another great beach.
If you are coming this way the village has what is possibly the best general store that we have come across. Food, hardware, linen and even a department for funeral flowers and urns.
On our return we were treated by seeing the lead boats racing from Gustavia around a course set to windward of the island. Note the 12 crew on the windward rail.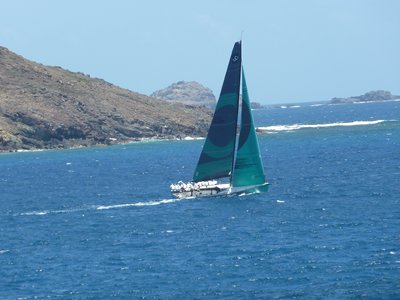 The paparazzi all lurking in Gustavia for the racing elite we indulged in some DIY just to prove that we are both still here, together.
Elizabeth had been keeping a leg of lamb, purchased in Las Palmas, for a special treat. John did an excellent job of boning it and I managed to make a good effort of cooking it without cremation. A good time was had by all.
---