A couple of days well spent in Gloucester

Caduceus
Martin and Elizabeth Bevan
Tue 28 Jun 2011 22:59
Date 2359 – Tuesday 28 June 2011 (UTC -4)
We spent Monday and Tuesday anchored in Gloucester whilst we sorted out a yard to haul the boat in August when we are booked to return to the UK and to obtain a quote for possible rebuilding of the cockpit enclosure at the same time. We hope that we have achieved both objectives. Gloucester being only 25nm from Boston and with a regular train service into the city seems an ideal spot; it is also much less expensive than anywhere further south.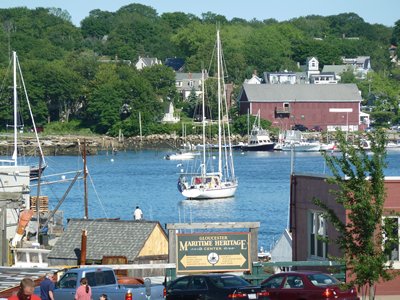 In between we were able to explore a little more of this delightful town. There are some interesting statues including this one commemorating the fishermen's wives and children, waiting the return of their men from the sea.
And one of the artist Fitz Henry Lane is in the garden of the house, overlooking our anchorage, where he lived most of his life.
Dinghy trips around the harbour provided a series of interesting aspects of this mixed harbour where serious fishing mixes with pleasure and social boating. Fishing boats in for repair lie alongside preserved schooners and those under serious renovation.
---