ARC Day 13 - Half way to somewhere and about time to

Caduceus
Martin and Elizabeth Bevan
Sat 4 Dec 2010 09:44
Position 12:31.79N 36:24.90W
Date 2359 UTC Friday 3 December 2010
A feature of the ARC is the daily radio schedule on SSB (HF Single Sideband) run in three groups to make it manageable by volunteer boats with the capacity to act as net controllers. Not all yachts have SSB and there are some with SSB who do not take part which is a shame as we find it a highlight of the day. This could be something to do with the fact of hearing another voice than each other. We are in group C which has held together remarkably well with workable communications being had with other boats at 100nm - 150nm range.
One of the questions asked during the schedule is a report on the current wind conditions for each yacht. Why is it that at that moment the wind behaves for 15 minutes or so, you dash up from the radio adjust the sails and it then for all intents and purposes stops. Which is a round about way of saying that today has been a day of largely very light wind, which for Caduceus is anything under 8 knots.
We have however had a change of heart about the cruising chute as we desperately require more sail area for the conditions that still prevail. Hence the genoa is strapped to the deck and the chute is up with the mizzen staysail also set. In 8 knots of wind aft the beam this is giving us about 4 knots - St Lucia by Christmas? Think positive, it will get better.
Yesterday morning I had a fly past by a medium sized white bird. It circled the boat a good dozen times but then few off. This morning it was brave enough to land a number of times, ignored the Mates's efforts to feed it cornflakes, which incidentally when dampened on the deck assume the consistency and tenacity of concrete, and flew off again.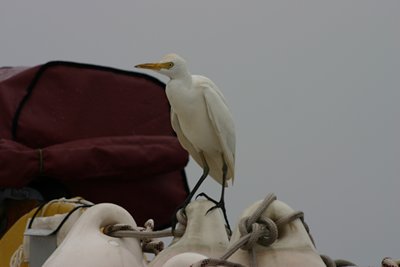 This is no seagull. If it is an Egret, is there any one out there who knows if it migrates; if so it is having the same problem with the trade winds as are we. If it isn't migrating then it has a problem with navigation as we are getting on for 1,200nm from the African coast. Whatever the reason this little bird has both determination and stamina. A helpful bit of advice on the net was to feed it frogs, that being an Egret's staple diet. The Mate's provisioning may have been thorough but even she cannot lay claim to tinned frogs!
From the catering department – today's creation was a carrot cake, courtesy of the Remoska. Smoked mackerel salad for lunch was excellent and for dinner there was Blue Peter Spanish Pork. We have no shortage of great cuisine to which I lay no claim whatsoever.
We have a bottle of champagne in the fridge to celebrate the half way point. Good in theory but neither of us feel up to consuming a bottle and as we haven't seen any passing yachts to help I suspect that that bottle gets a reprieve until the finish.
---