Carters Beach to Mosher Harbour

Caduceus
Martin and Elizabeth Bevan
Tue 16 Jul 2013 15:40
Position 44:15.00N 064:21.07W
Date 1640 (Canadian Atlantic) Tuesday 16 July 2013
Passage Run – 35.0nm – 33nm over the ground in 5hrs – all motoring
I was woken at 0600 by a couple of canoeists talking on the beach, it was very still and the sea was glassy which did not bode well for the day. A third canoeist joined the gang and they paddled off. They returned about 0900 when I was sitting in the cockpit drinking a cup of tea and came alongside to apologise if they had disturbed us earlier. What a lovely group of chaps, including one, Mel, who was from Ipswich and had attended the Royal Hospital School, Holbrook, near to our home yacht club, the Royal Harwich, where RHS now keep some of their boats and our son Andrew's old rugby adversaries. We had a good chat and received offers of lifts to groceries stores and hospitality. Unfortunately we had to press on, but not so far today.
We waited until nearly noon but there was still little wind and that was dead on the nose, of course, so it was a motor to our next intermediate stop. We decided to miss out the harbour at Lunenburg and call there on our way back west and chose an anchorage in the lee of West Spectacle Island which bounds a bay named on the chart Mosher Harbour on the approach to the Le Have River. It provided a pleasant anchorage for an overnight stay. Ashore at one end of the island was the collapsed wreckage of a large old house. 'Ripe for renovation'?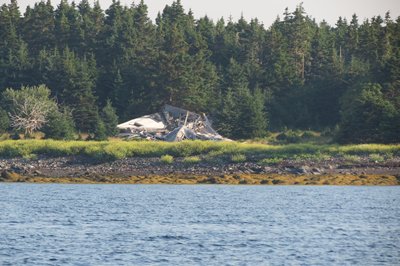 and directly opposite our anchorage a small cabin and which appeared to be occupied by a single man. Definitely someone looking for a solitary holiday home.
---