To Teluk Lombal, Pemanang and an eruption

Caduceus
Martin and Elizabeth Bevan
Mon 2 Nov 2015 14:40
Position 08:24.26 S 116.04.55 E
Date 1440 (UTC+8) Monday 2 November 2015
Trip total In 8hrs 43nm over the ground, 47nm through the water
Arrived at Teluk Lombal, Pemanag, NW Lombok, Indonesia
Today was another day sail to get across the top of Lombok. The benefit of making an early start was that the visibility was better and we got a good view of Rinjani illuminated by the dawn sun.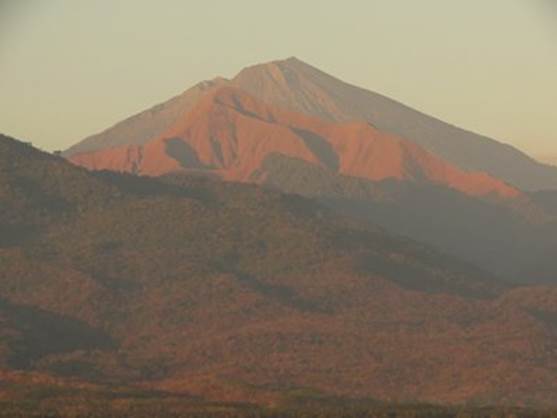 Rinjani in the dawn light
What we did not expect to see was the start of a major eruption, that as this entry is being written some days later and with the benefit of hindsight, was going to have repercussions on tourist flights, visibility and very dirty decks.
The start of a major eruption on Rinjani
As the day warmed up the visibility dropped but the wind came I and we had a few hours good sailing arriving and taking up a vacant mooring, tested by a good burst of reverse, at the Lombok anchorage of Teluk Kombal opposite the tourist island of Gili Air
An interesting local craft spotted during the day
---