Las Palmas - Week 2 - ARC events start

Caduceus
Martin and Elizabeth Bevan
Sun 21 Nov 2010 08:46
Position 28:07.72N 015:25.51W
Date 0830 UTC Sunday 7 November 2010
IMPORTANT INFORMATION – so that it does not get lost in the bulk of this diary entry – if you wish to track us using the ARC site, which is updated automatically every 6 hours log into www.worldcruising.com/arc . This uses a tracking device which the ARC organisers are providing for all boats this year for the first time.
Week 2 and the very impressive ARC office, having been assembled from scratch, opened and the organisation swung into action.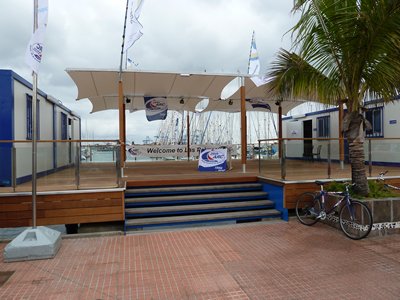 We booked in which gave us a 30 minute individual briefing, most useful. We were early on the list for a safety check. A very thorough and useful review of the boat and safety systems. Careful preparation and reading of the requirements meant that we passed with flying colours. Elizabeth was commended on one of the bets prepared 'Grab Bags' that our examiner had seen. Those of you who have seen Elizabeth's idea of light weight packing will understand how this was achieved.
Tuesday saw the first of many ARC parties, hosted by the Chandlers Rolnautic; an attempt by those present to consume some of the profits that we are all pouring into the shop.
Wednesday was our safety briefing and the first of the ARC Happy Hours; There are still over 100 boats to arrive and many boats here are empty with their owners back at home.
Thursday, the ARC Seminar program started and we had hour long sessions on provisioning, rigging checking and maintenance, handling crisis at sea, weather and routing. All of these seminars were presented by well known experts in their fields which gives additional value.
In between all of this we were both continuing with work on the boat, shopping for those items that would be difficult or expensive to get when we arrive in the Caribbean and Elizabeth in particular doing reconnaissance for the major provisioning exercise next week. It was very busy and not a little tiring, but great fun all round.
Friday evening was the ARC Official opening party hosted by the City of Las Palmas in the Parque Doramas; an ideal venue for a large number with and amphitheatre for the speeches and entertainment. The finale of the entertainment was the winning entry in the Gran Canaria Carnival, sort of X Factor with sparkle – essentially a male striptease but safe for families. Elizabeth thought that she had found a new crew member:
That via way of more seminars on Saturday brought us around to the ARC opening parade on Sunday. Crews assembled under their national flags and march around the marina with bands and a carnival team finishing with a flag raising ceremony. The Great Britain flag was carried by Callum, with a little help from father Tim who are crossing on a 38 foot catamaran.
Elizabeth can be seen giving our boat mascot, Rodney, an outing.
---