ARC Day 20 - Are we there yet Dad?

Caduceus
Martin and Elizabeth Bevan
Sat 11 Dec 2010 09:33
Position 13:59.29N 57:29.05W
Date 2359 UTC Friday 10 December 2010
Are we there yet Dad?
No Rodney we are not! But it is not far now. And probably none too soon if we are talking to inanimate objects; the more so when they talk back.
As forecast the winds lightened during the day although as is usual it took some time for the sea to follow suite which resulted in a great deal of rolling in the meantime. As the wind lightened it also veered round to the ESE and we were able to set the main wing on wing to the genoa which helped to compensate for the loss of speed due to wind strength. Nightfall, which happens with a tropical abruptness, saw us coasting along under a star filled sky at a steady 6 to 6.5 knots with a slight following sea; wonderful.
Catering has had a very busy day. The chef's hunger pangs kicked in at what she considered lunch time and I, having just arisen considered breakfast. Cereal was therefore followed by fried choritso baguettes. Chef must have been 'end of term' happy as she succumbed to a gin before dinner. Dinner saw the production of the infamous cottage pies (regular readers will remember the culinary crisis when the Skipper mistook lasagne for cottage pies and defrosted the wrong thing). Skipper now feels entirely vindicated as we could not have had the pies today had he not made the mistake in the first place. This was followed by steamed syrup pudding and clotted cream ice cream. The whole being courtesy of M&S Gibraltar and a cycle dash by the Mate to get it all back from Main Street before the thaw set in.
For the record here is a picture of the famous Remoska in action, complete with handler; cooking the cottage pies.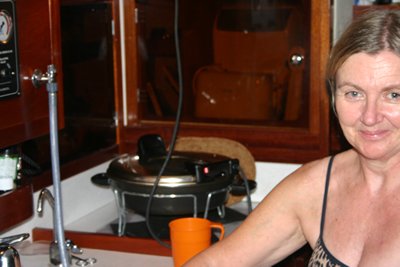 We started completing the end of cruise survey today. This is used to produce a post ARC equipment evaluation for publication in Yachting World. In answering the question about water makers I thought that it might be of interest for the diary to know that we have on average run the water maker for 1.75 hours per day. It has been producing about 75 litres an hour and performed faultlessly; it should be nearer 100 litres per hour given the water temperature, I think that it may require a filter change. This daily fill of water, when the generator is running to charge the batteries, means that we will finish in St Lucia with our 900l water tank full having had the luxury of decent daily showers and only sensible restrictions on use.
---