Birthday in Bequia

Caduceus
Martin and Elizabeth Bevan
Sun 6 Feb 2011 14:00
Date 1400 – 6 February 2011
Our stay in Bequia culminated with leaving on my birthday to sail to Martinique.
We filled our four days with a variety of walks and trips around the island. One walk that we had not done before took us up to the remains of Fort Hamilton, built to protect the harbour. There are really good views over the harbour and the north west of the island.
We had dinner at Fernando's Hideaway with Liz and Derek Hayes.
The Hideaway is our favourite eating place on Bequia and a firm favourite with the ex-pat community. Fernado's wife is an artist and some of her paintings are directly onto the wall. Visitors to our kitchen at home may recognise the picture.
We celebrated my birthday with a taxi ride over to Friendship Bay and lunch. We had not visited Friendship before. It is beautiful and we do hope that it is not spoilt by the huge hotel complex being completed there.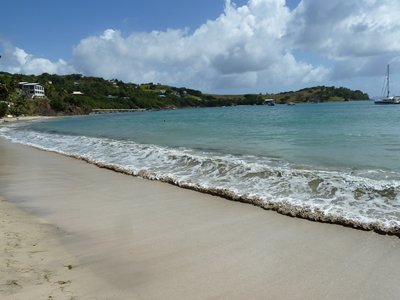 Just to prove that I do exist, the official birthday photograph.
I could not resist including this photograph of the Bequia ferries having Sunday off – rather Thomas the Tank Engine 'esque.
---