Noumea to Kupang Day 5 - Wear and tear

Caduceus
Martin and Elizabeth Bevan
Tue 6 Oct 2015 07:06
Position 14:42.69 S 154:15.69 E
Date 1200 (UTC+11) Tuesday 07 October 2015
Distance run in 24hrs 166nm over the ground, 167nm through the water
Trip total 829nm over the ground, 798nm through the water
To go to Kupang Indonesia 1973nm
We continue on with little changed conditions; large following seas with the wind directly on the stern. Bright sunshine glistening off the tumbling waves makes for a hypnotic effect, until you realise that the thing that you put down a millisecond ago has transported itself to the other side of the cabin. It is definitely one hand for the boat and one for yourself.
The stress is beginning to show on bits of equipment. The Watt and Sea hydrogenerator is once again not working. There is nothing wrong with the actual generating function but the line holding the blade down in the water has chaffed through, if you could see the churning water at the stern you would realise why this happens. I was able to recover the unit and it is a simple job to replace the line. What is not possible without stopping is getting it back into it bracket on the transom, the force of the water flow is just too great. Trying to stop the boat in these conditions is not something that I wish to do so it will have to wait for calmer conditions. One of the wind generators has also developed a vibration which is either a run bearing or a loose blade. As it is on the same arm as the satellite antenna that has had to be closed down to avoid any further damage. On a positive side we are seeing our first 100Ah plus day from the solar panels. Moving from winter to summer and getting closer to the equator makes a considerable difference. So it looks as if for the time being we have gone from self-sufficiency in power generation to requiring about 2 hours a day from the diesel generator. As a by-product that should solve any issues with generating water and providing a good supply of hot water.
And now for the photograph of the day. Our au-pair from the Czech Republic, via Lakeland Plastics (UK household goods supplier), "Remoska". More about "her" abilities tomorrow.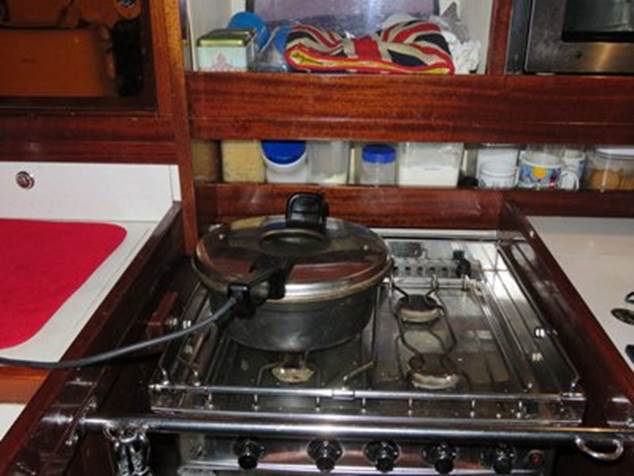 Not much to look at but at 650 Watts a brilliant and economic performer
---