Southbound Day 2 - a pre-dawn start from Tenants Harbor bound for Gloucester

Caduceus
Martin and Elizabeth Bevan
Thu 30 Aug 2012 19:10
Date 2010 Wednesday 29 August 2012
A number of things that you should know about pre-dawn departures from anchor:
<![if !supportLists]>1. <![endif]>It is very dark.
<![if !supportLists]>2. <![endif]>Avoiding the mud on the anchor requires dexterity, agility and a hose pipe.
<![if !supportLists]>3. <![endif]>It may be 0430 in the morning but that is the time that every lobster boat in Maine decides to use the main channel and go out at maximum speed.
<![if !supportLists]>4. <![endif]>Following a lobster boat out where you can see both port and starboard navigation lights, a steaming light and a stern light all at the same time does make working out which direction it is going interesting.
Having managed all of the above successfully we headed out and hung a right to head for Gloucester, some 110 nm south west. Just after 0500 the wind filled in and without a cloud in the sky and the dawn highlighting the mountains of Maine in the north we were able to set all plain sail and make a steady 8.5 knots; wonderful!
The next 7 hours were the most wonderful sailing on a fast reach with little in the way of sea. All good things come to an end however and just after noon the wind gradually backed and forced us firstly hard onto the wind and then the decision either to tack or use diesel to maintain our course. Diesel won the day.
Lunch deserves a mention in full technicolor: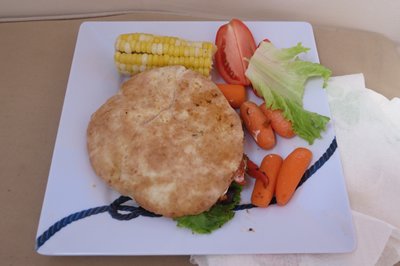 Grilled spiced chicken and salad on a fresh pita bread from the deli in Camden with corn on the cob. Life is tough at the front.
Dieseling may be boring but it was going to get us there at about 2000 which meant an arrival in the dark but we have done this with Gloucester before.
The day continued with a completely clear sky and the high pressure gave the most interesting sunset. This photograph, courtesy of my new Canon camera with 35x zoom is taken just south of Cape Anne and is of Boston some 27 miles away - note the curvature of the earth.
Gloucester had its annual Schooner Festival at the weekend and we were lucky to find the inner harbour anchorage empty. This would not have been the same situation on Thursday, see the next blog for this. The anchor went down at 2010 in a great spot especially as we have decided to stay and enjoy the weekend.
We had originally though that we might go ashore and eat at the Cape Anne Brewery but it had been a long day and we will save that delight for the morrow. The mate adopted her Chef's hat and on arrival produced a very welcome pork in cream and mushroom sauce, cooked en-route.
---