New Zealand Day 7 - Land ho New Zealand - Almost there

Caduceus
Martin and Elizabeth Bevan
Tue 11 Nov 2014 03:48
Position 34:44.93S 173:45.72 E
Date 1200 (UTC +11) Tuesday 11 2014
1400 (UTC+13) local time New Zealand
Distance run Last 24 hours 179nm over the ground, 178nm through the water
Distance (OG) covered from start 1022nm
Distance to destination 42nm 178nm made in the day
Original distance to Opua (direct route) 890nm
Leaving our turn towards our waypoint and resorting to full motor meant that we had a decreasing swell to motor into and initially with only a well sheeted in main we made just over 5 knots which was better than I had expected. From 1800 the wind gradually veered and we were able to first set the staysail and then the mizzen which gave us an increasingly good speed over the ground. We were warned before we started that the next cold front and low were due in Late Tuesday or Wednesday morning and nothing had changed in that forecast, the barometer dropping 9mb in the day and the wind veering and lightening in advance of the front. Our speed gradually increased and by noon we were clocking along at an average 8 knots which meant that we could look at a daylight arrival in Opua later in the day.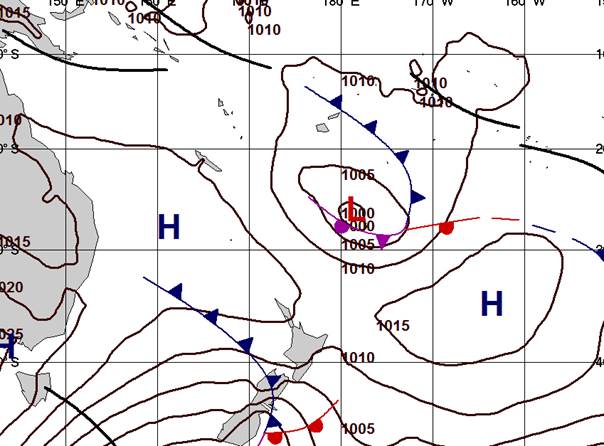 Mondays weather chart showing the forthcoming weather problem
First light came up at 0345 followed by a great dawn.
Followed by our first sight of New Zealand.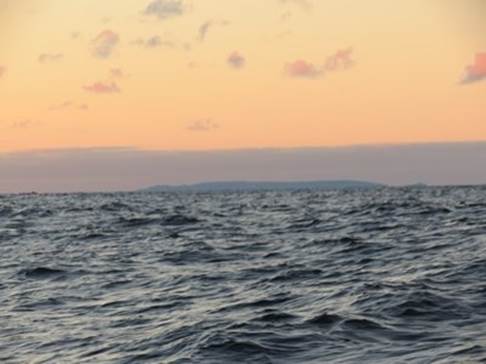 One of the great things about ocean sailing is a dawn landfall – North Cape, New Zealand
As an additional treat we saw our first albatross of the trip, a great and beautiful sight (Sorry no photograph I was too busy enjoying the view).
---